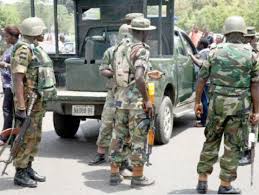 13 October 2016, Lagos – The joint military task force deployed to the Niger Delta to protect oil facilities said it arrested several oil theft suspects and killed a suspected militant in a gun duel.
This is contained in a statement issued by Lt.-Cdr. Thomas Otuji, spokesman of the military force "Operation Delta Safe,".
According to the statement, the operations were carried out within the past seven days across the Niger Delta region.
"In one of the operations, troops arrived the suspected militants' hideouts following a tip off and engaged them in a gun battle.
"One was killed and two suspects arrested. "Items recovered include one AK- 47 rifle and a magazine loaded with 20 rounds of 7.62 millimeter special ammunition."
In another development, troops of Operation Delta Safe deployed to Southern Akwa Ibom received distress calls from the public of illegalities along Qua Iboe Terminal Jetty waterside in Ibeno community.
According to Otuji, the troops cordoned the area up to Oron waterside and encountered suspected oil thieves engaged in illegal refining activities.
"Some of the criminals absconded on sighting our troops, however, 13 oil thieves were apprehended."
He said that the suspects are in the custody of the Nigerian Navy Ship Jubilee in Ikot Abasi for further investigation. Items recovered from the suspected oil thieves include- three wooden Cotonou boats, 180 units of 200 litres capacity drums filled with illegally refined petroleum products and one locally made pistol.
Following a distress call received by troops in Bayelsa, indicating that sea pirates were terrorising innocent citizens at Ogubene Creeks, troops deployed to Kulama oil rig trailed the pirates to the location.
"The pirates fled on sighting gunboats from a distance. The troops, however, rescued one Mr Dokubo Charles who said pirates absconded with his 25 Horse Power engine mounted on a wooden boat. "The pirates are being trailed for possible apprehension," Otuji said.
He said that the troops also discovered and seized two large metal barges at Adokiri around Okrika axis used by oil thieves.
The barges contained about 500,000 litres of petroleum products suspected to be crude oil.
Also while on surveillance patrol of Chevron pipeline at Sagbama Creek in Warri West Local Government, the troops discovered an illegal pipeline buried under ground by suspected vandals, Otuji added.
"The pipes were neatly connected to wellheads with a recoiling wire. The pipes and recoiling wires were detached and destroyed."
Otuji applauded the support of the Niger Delta communities in the ongoing efforts to rid the region of criminals and restore peace and urged them to sustain the efforts.