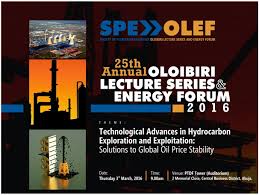 Oscarline Onwuemenyi
25 February 2016, Sweetcrude, Abuja – The Minister of State for Petroleum Resources, Dr. Ibe Kachikwu, has confirmed his participation as the Guest of Honour and Host Minister at the Silver Jubilee and 25th edition of Annual Oloibiri Lecture Series and Energy Forum (OLEF) next week, at the PTDF Towers Auditorium in Abuja.
The Secretary-General of the Organisation of the Petroleum Exporting Countries (OPEC), Abdallah El-Badri and Nigeria's Senate President Bukola Saraki are expected as Special Guests of Honour.
According to the Chairman, SPE Nigeria Council, Mr. George C. Kalu, this year's edition will bring together experienced exploration and production (E&P) industry experts who will provide insights on advances in Nigeria's oil and gas activities aimed at mitigating the effect of low oil prices and how these will chart the right course towards sustainable future for the industry.
Other confirmed top E&P executives to speak at the event include Managing Director, First E&P Development Company, Mr. Ademola Adeyemi-Bero; Director, Department of Petroleum Resources, Mr. Modecai Baba-Ladan; Managing Director, SNEPCO, Mr. Bayo Ojulari; Managing Director, ExxonMobil Nigeria, Mr. Nolan O'Neal; Group Executive Director, E&P NNPC, Dr. Maikanti K. Baru; and Chairman, PETAN and Managing Director, Oildata Inc., Mr. Emeka Ene.
The Oloibiri Annual Lecture Series focuses on contributing to oil and gas policies development for Nigeria in commemoration of the first oil well drilled in 1956 in Nigeria by Shell D'Arcy at Oloibiri, Ogbia, Bayelsa State.
It is a platform that attracts participants from the government, regulatory agencies, heads of industry practitioners at all levels, as well as other key stakeholders from around Africa.
The Energy Forum, which runs concurrently with the annual lecture, seeks to educate stakeholders handling energy issues in the nation's financial and allied industries, for public benefit and to provide opportunities for professionals to enhance their technical and professional competence.