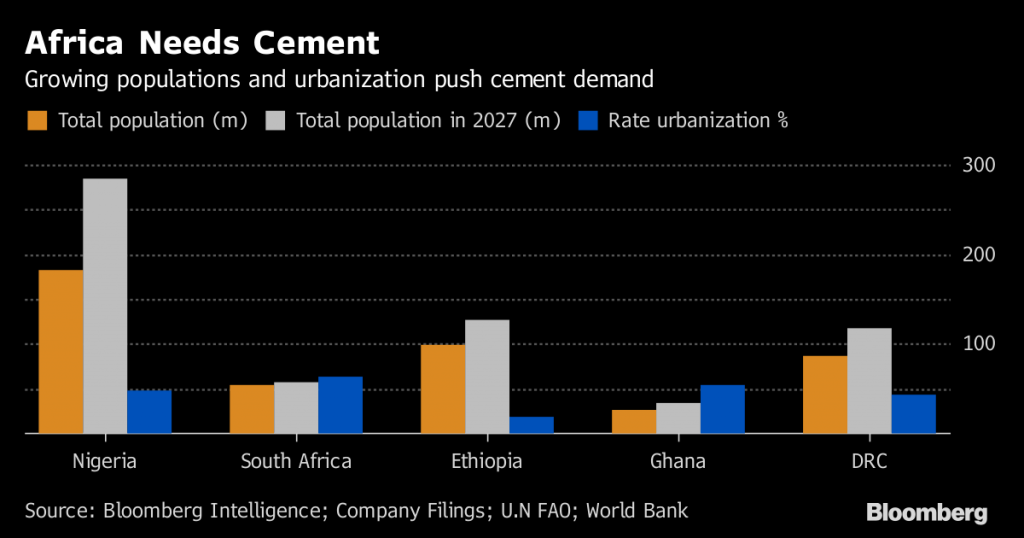 *LafargeHolcim, Heidelberg, Dangote, Titan are weighing bids
*ARM Cement newest acquisition target after South Africa's PPC
12 November 2017, Nairobi — ARM Cement Ltd., the Kenyan building-materials supplier, is the newest takeover target in the battle among the world's biggest cement makers to expand in Africa, according to people familiar with the matter.
ARM's owners are exploring a sale, said the people, who asked not to be identified because the talks are private. The Nairobi-based company is currently valued at about $133 million on the Nairobi stock exchange, though the sellers are seeking more than double that amount, the people said. ARM's two biggest shareholders are CDC Group Plc, a development-finance institution owned by the U.K. government that invested last year, and the founding Paunrana family.
"We are in the process of finding an equity and a strategic buyer to inject equity into the business," ARM Managing Director Pradeep Paunrana said by phone on Friday. "The process is on and we expect over the next few weeks to complete that process."
Rival cement companies including LafargeHolcim Ltd., the world's biggest, HeidelbergCement AG of Germany, Nigeria's Dangote Cement Plc and Titan Cement Co. SA of Greece are among parties considering bids, said the people. No final decisions have been made. ARM currently produces about 2.7 million metric tons of cement in Tanzania, Kenya and Rwanda, according to its website.
Spokespeople for LafargeHolcim, HeidelbergCement and Titan declined to comment. A spokesman for Dangote Cement didn't respond to an email seeking comment. A spokesman for parent company Dangote Group said Dangote Cement wasn't intending to bid for the company.
There are more than six potential investors, Paunrana said. The evaluation process includes gauging the level of interest in the company and deciding how to structure the deal, he said.
The European players and Dangote are competing to expand their footprint on a continent with the potential to develop infrastructure at a blistering pace in coming decades. Cement use in Africa is less than 50 kilograms (110 pounds) per person, with some countries as low as 30 kilograms, according to London-based Bloomberg Intelligence analyst Sonia Baldeira. That compares with China's 1,737 kilograms per person and Europe's 230 kilograms.
ARM isn't the only target. LafargeHolcim is in talks with South Africa's biggest cement maker, PPC Ltd., while HeidelbergCement, Dangote and Titan are monitoring the situation. The 125-year-old company has received a formal offer from Canadian insurer Fairfax Financial Holdings Ltd., which has pledged to buy a stake on condition it agrees to merge with a local rival. PPC has supplied cement for major building projects in several African countries and has expanded with new plants in Ethiopia, Zimbabwe and the Democratic Republic of Congo.
LafargeHolcim in Talks With South Africa's PPC About Offer
Major cement makers outside Africa have been in consolidation mode since the creation two years ago of LafargeHolcim from Swiss and French rivals. Last month, Dublin-based CRH Plc received approval from Ash Grove Cement Co. shareholders to buy the U.S. supplier for $3.5 billion and in September, HeidelbergCement agreed to acquire Italian assets from Cementir Holding SpA.
*Aaron Kirchfeld, Dinesh Nair & Bella Genga; Janice Kew, Emele Onu, Oliver Sachgau, & Alice Baghdjian – Reuters