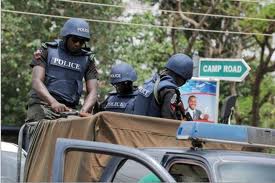 *Releases Ohunyoun, MD, Greener Line Trans in order to raise N100m ransom
*Takes younger brother, operations manager hostage in lieu

Emma Amaize
& Festus Ahon
29 December 2011, Sweetcrude, WARRI- A five-man kidnap gang in Ekpoma, Edo state, which demanded N100 million ransom for the release of the managing director of Greener Line Transport Limited, Warri, Delta State, Mr. Alex Ohunyon, who was abducted by the group, last month, reportedly, called his bank to confirm his accounts before he was conditionally freed, having been held captive for 33 days.
Mr. Ohunyon was temporarily released after the kidnappers saw he could not immediately raise the N100 million they demanded, but his younger brother and operations manager, who brought some money to effect his release, was seized by the kidnappers, pending when he pays the ransom.
He confirmed that the kidnappers called his bank on phone to confirm that he did not have N100 million in his account before he was conditionally released, saying that his life was presently under threat, as they want him to pay the ransom or his wife and children would be killed.
Narrating his ordeal in the hands of the kidnappers, in Warri, he said, "I went on a sympathy visit to my home town Ekpoma, Edo State on 19th November 2011 and it turned into a nightmare which lasted for 33 days. Even after the incident, I am still being threatened by the same group of people who kidnapped me on that fateful day".
"My ordeal started about 11:00 am in the morning when I paid a condolence visit to one of my workers who lost his daughter at the construction site where I am erecting my building in Ekpoma, Edo State.
"Barely 30 minutes after my arrival at the site, five heavily armed men in mufti, wearing police bullet proof vest with inscription, POLICE, boldly written on them stormed the site and ordered all the workers to lie face down at gun point, and marched one of the worker to lead them to the "Oga" who owns the site.
"I was on the upper floor inspecting the job done when I saw them. At first, I was not scared because I thought they were policemen but when I saw the sophisticated weapons they carried, including a rocket launcher all pointing at me I became scared," he added.
"They handcuffed me, both hands and leg, marched me to the lower floor, took my phones, car keys, removed my eye glasses, wrist watch, shoes, and bundled me into the boot of the car they came in and drove off with my car following behind.
"They drove on smooth road, bad road for some hours I cannot really tell because the booth was very dark and suffocating, I could hardly breathe but after a long time, we stopped.
"They brought me out from the booth of the car, blind folded me and took me into a building still handcuffed and put me in a room, which was very dark, even when they removed the blind fold I could not see anything, they just left me there for three days.
"No food, water or anything, all they provided me with was empty plastic can to urinate in. All I could do was pray to God to save me, I was very weak and sick from the ordeal," he added.
"On the fourth day, they came into the room with their guns pointing at me and said they are not after money, but my life. I begged them to spare my life, I pleaded seriously and after a while they agreed to spare my life, if my family pays N100 million.
"I started pleading again, I told them I don't have that kind of money. It was then they revealed details of my account to me, apparently they had gone through the contents of my belongings in my car because two of my cheque books were in my bag in the car.
"They told me pointedly to choose to live or die, I kept pleading with them that I am indebted to the bank and that whatever money they think I have is not mine but belongs to the bank.
"They said I should call people to pay the money or they will kill me. They gave me my phone and I called my wife and family to raise the money. They took me back to the house still hand-cuffed and beat me mercilessly", he said.
"My feeding was very poor and I slept on bare concrete floor for 33 days, handcuffed, both hands and leg, only God knows how I survived the ordeal, my family could not raise the 100 million naira demanded by the kidnappers.
"So I remained there with them because the bank insisted I must be physically present before any money will be released, which the kidnappers confirmed themselves from the bank.
"After much pleading by me and my family, some money was raised and given to them to facilitate my release on the condition that the balance will be paid. My younger brother and operations manager of my company who brought the money to them (kidnappers) was abducted, while I was released to get the balance.
"I have tried all I can to raise the balance but I cannot now and they are threatening to kidnap my children, my wife and cripple my business hence my appeal to the Government to save me and my family from this nightmare.
"I have gone to the police to release all those arrested in connection with my kidnapping as directed by my kidnappers and I am begging them to release my younger brother and operations manager.
"I have tried all I can to raise the money requested but since the bank deducted their money, all I have left is what was paid to the kidnappers for my release," he stated.
Ohunyon decried the present security situation in Nigeria, describing it as 'very dangerous, nobody is safe, no matter how highly placed the person is in society'.