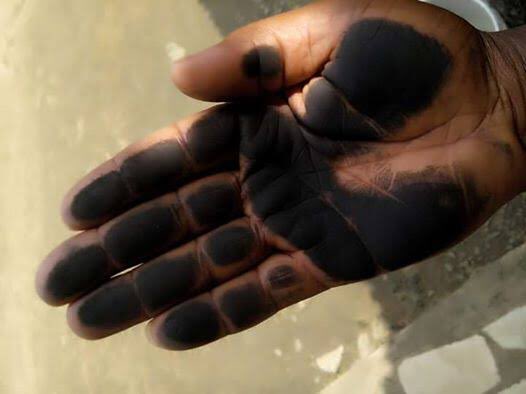 Mkpoikana Udoma
Port Harcourt — Port Harcourt, the garden city once famed as one of the beautiful places to visit in Nigeria for good time is now a harbinger of death owing to the activities of artisanal refiners of crude oil to produce Kpo Fire fuel, leaving in its wake carcinogenic soot in the air.
Complicit in the merchandising of death in the city of Port Harcourt and its environs are the international oil companies, IOCs, which continue to flare gas and do very little to check crude oil theft on their lines.
Complicit also are the security agencies whose personnel aid and abet oil theft, artisanal refining and transportation of Kpo fire fuel.
Government agencies, such as the Federal Ministry of Environment,  Nigerian Upstream Petroleum Regulatory Commission, NUPRC; and the Nigerian Oil Spill Detection and Regulatory Agency, NOSDRA; also have a measured dose of complicity in the merchandising of death in the area owing to the conspiracy of silence in the face of the devastation wrought by the activities of artisanal refiners of Kpo fire fuel.
Just to be clear, Kpo fire is the name creek dwellers have given to illegally refined diesel, petrol and kerosene. Basically, there is kpo fire diesel, kpo fire petrol and kpo fire kerosene.
Investigations revealed that the carcinogenic hydrocarbon soot ravaging Port Harcourt and environs became noticeable in 2016.
Oil companies despite spending so much on pipeline security contracts, have proved to be unable to protect their pipelines, which is hacked daily by oil thieves.
The 14″ Okordia-Rumuekpe pipeline, and the 20″ Koko creek- Rumuekpe pipeline, operated by Shell Petroleum Development Company, SPDC, are vandalised at least once a week, according to investigations carried out by SweetCrudeReports.
Considering the frequency of the breach on the lines, it beggar belief that the company still pumps crude oil daily into such lines and expects not to be held complicit.
Our investigations revealed that the IOCs are aware that their workers are complicit in the production of kpo fire fuel, and these companies also patronise kpo fire diesel merchants to keep their marine operations up and running.
It was gathered that the SPDC in particular loses 40 percent of crude oil produced from onshore and shallow water fields to the activities of illegal crude oil cum artisanal refining.
We gathered that security agencies in the Niger Delta region aid and abet artisanal refining by collecting bribes from operators and those engaged in illegal oil bunkering. They also escort trucks with adulterated products to pass security check points.
Similarly, illegally refined petroleum products are sold and bought openly in Port Harcourt, as it has been established that oil importers, including the Nigerian National Petroleum Corporation, NNPC, import only petrol, also known as premium motor spirit, PMS, and jet fuel, while other products like diesel, also known as automotive gas oil, AGO, and dual purpose kerosene, DPK, or domestic kerosene sold all over the country are sourced from artisanal refiners.
Our investigations revealed that even the oil firms prefer kpo fire diesel for their operations since it is cheaper and readily available while low income earners also patronise kpo fire kerosene sold in plastic bottles, due to its availability and affordability.
However, while youths in the Niger Delta region, in collaborations with oil company workers and contractors smile to the bank daily, a greater number of residents of Rivers State are suffering from respiratory diseases caused by carcinogenic hydrocarbon soot, exposing millions of people to the risk of lung cancer, infertility and other complications.
What is soot
Soot is the common term for a type of particle pollution called PM 2.5 — particulate matter with diameters that are 2.5 micrometres or less.
It is formed as a result of the incomplete combustion of fossil fuels, and due to its tiny size, it can penetrate the lungs and bloodstream easily.
According to the US Environmental Protection Agency, soot is one of the deadliest forms of air pollution.
A climate scientist and air pollution specialist at the Rivers State University, Prof Precious Ede, said soot contains harmful chemical substances that can cause cancer and respiratory disorders.
The harmful substances, the professor said, are heavy metals, total petroleum hydrocarbon, TPH, polyclinic aromatic hydrocarbons, PAHs, diesel fuels, arsenic, lead, mercury, mineral oils, benzene, toluene and xylenes.
Three years ago, Port Harcourt was ranked globally as the worst air polluted city in the world.
Oil companies' and security agencies' complicity
The unchecked rate of activities promoting soot in Rivers State is attributed to the collusion between oil companies, security and government agencies with those involved in the "business" — a claim that was also established in the Rivers State Government 2019 report.
In spite of the environmental hazards caused by oil companies in the area, they are heavily guarded by security operatives that often clampdown on youths who try to protest.
Executive Director of Advocacy Centre, Fyneface Dumnamene Fyneface, said the government, regulatory and security agencies are all in this together with the multinational companies. "They're the direct beneficiaries of whatever is going on. It's a kill and divide business that they're doing," he said.
Fyneface wondered why the oil multinationals have been unable to prevent vandalism on their pipelines, despite spending so much resources on pipeline security contracts.
"Illegal crude oil refiners use crude oil stolen from multinational oil companies' vandalised pipelines. It is thus worrisome to know that despite the much money being spent on pipeline security contracts, the contractors are still unable to secure the pipelines and prevent vandalism and crude oil theft used for illegal refining activities that contributes to black soot.
"What this tells us is that either the contractors are failing in their abilities to protect the pipelines or they are complicit, aiding and abetting the crude oil theft for further profit-sharing for personal aggrandisement," he stated.
Fyneface believes that there is no way a pipeline right of way that has been allocated to a contractor would be tampered with and tapped with permanent valves for crude oil siphoning connected to it and maintained for crude stealing for years without the contractors and oil companies knowing.
"Hence, their complicity in this process. The entire process that has left the people of Rivers State, Bayelsa State and Akwa-Ibom State so far with reports of black soot is a network of cartels and a web of people and companies aiding and abetting these poisonous processes on unsuspecting members of the public resident in these states with massive health impacts, including deaths caused by black soot related illnesses.
"In some climes, metering devices are used to monitor the transportation of petroleum products through pipelines basically to checkmate leakages along the line for immediate curtailing. There is no reports of crude oil theft for illegal refining in any known country except Nigeria and one wonders why such devices cannot be deployed in the country," he added.
Evaristus Nicholas, the leader of Egbema Voice of Freedom, decried the fact that the perpetrators of illegal refining were smiling to the bank while the people suffer.
He said: "The beneficiaries are making a fortune out of the situation and leaving the poor to die more. The soot is killing us slowly."
Efforts to reach the management of the multi nationals operating in the region have proved abortive as at the time of filing this report."
Health risks and complications from soot
Following the outcry that trailed soot prevalence since 2016, Rivers State Governor Nyesom Wike commissioned a technical team in 2018 to investigate the factors causing soot pollution and how to tackle it.
According to the report published by the team in 2019, artisanal refining, gas flaring and crude method of destroying illegally acquired petroleum products seized from oil thieves by security agents, topped the list of activities causing soot pollution in the state.
Other causes, according to the Rivers State Government's 2019 report on soot, are petrochemical industries, asphalt plants, burning of tyres, emissions from fertiliser companies, amongst others.
The report — citing a review of hospital records across the 23 LGAs in Rivers — also revealed that 22,077 persons who received treatment for soot-related conditions between 2014 and 2018 suffered respiratory ailments.
Nine million Nigerians at risk of cancer from soot
Buttressing the impact of hydrocarbon soot, a medical doctor raised the alarm, pointing out that more than nine million residents of Rivers State and its environs are at risk of developing lung cancer and other respiratory problems following prolonged exposure to black soot caused by hydrocarbon processing.
A consultant surgeon at the Rivers State University Teaching Hospital, Dr. Furo Green, told SweetCrudeReports that there is a spectrum of diseases that the hydrocarbon pollution can cause, and if it is not checked over a period of time, it can progress to cancer and even death.
Apart from cancer, the medical doctor also listed other ailments that would arise from prolonged inhaling of the black soot to include asthma, chronic bronchitis, asphyxia and even infertility, warning that the health implication of inhaling the black soot is even more dangerous on children.
"The implication of inhaling these hydrocarbon particles is that it can lead to acute inflammation of the airways which can precipitate to hyper stimulation of the airway and actually precipitate asthmatic attack in individuals who are predisposed to asthma, and over a long period of time it can precipitate chronic obstruction of the airways which we refer to as chronic bronchitis.
"When this condition goes on for a long time, it results in chronic respiratory conditions that can end up as malignancy or even kill the individual. The number of people affected by this might even be larger than nine million because other neighbouring states are also experiencing the soot, and even recently parts of Lagos State have been reported to also experience it.
"After prolonged exposure, hydrocarbon soot can leave the victim predisposed to cancer, especially of the lung because that is the area where it settles but there are other long lasting conditions that may arise from hydrocarbon soot poisoning such as infertility as demonstrated by Prof. Georgewill of the Department of Pharmacology at the University of Port Harcourt Teaching Hospital, where he was able to demonstrate that fertility is significantly affected by hydrocarbon soot poisoning.
"But in children the effect can be unpredictable, a child that is very normal now could actually develop an acute respiratory problem, meaning that a child who has never had asthma can actually precipitate to one, and if care is not taken the child could die from asphyxia. So the effect of these particles are more pronounced in children right now but over a period of time, it will lead to lung condition," he said.
Rivers residents at risks of infertility
A public health physician, Dr Bieye Briggs, warned that long term exposure to soot could lead to cancer, sterility in men, infertility in women and other critical health issues including premature death.
Briggs, who is also an environmentalist, warned that continuous exposure to soot can lead to preterm deliveries, low birth weight and confusion, as the brain instead of taking oxygen, was taking in soot which will cause a malfunction In the brain.
He said chemical components of soot like benzopyrene, carbon, sulphur dioxide, phenanthridine, flouranthene, benzoacridine, nitrogen oxide, etc., are capable of causing cancer, infertility, pneumonia, bronchial asthma, etc.
He also cited studies published by experts on increased respiratory ailments among PH residents – structural anomalies in male spermatozoa of Port Harcourt men, etc saying that residents of the state need to be aware of the implications of soot on their health.
He said: "Health is a state of complete physical, mental or social wellbeing. With the daily exposure of people to soot, fine particulate matter from incomplete combustion, in the long run many are at the risk of respiratory diseases.
"Acute respiratory distress syndrome, pneumonia, skin irritation, acute bronchial asthma both genetic and nongenetic, constriction of the airways. Worse off, a high-level infertility in men and women, traceable to exposure to benzopyrene, carbon, lead, sulphur dioxide, etc found in soot."
Victims of soot 
Mrs Vienye Briggs, wife of Dr. Bieye Briggs said she and her 7 months old baby have been diagnosed with upper respiratory tract infection, traceable to soot.
Mrs. Briggs advised that nursing mothers should endeavour to keep their babies indoors because of the menace, as she and her 7months old baby, Songho Briggs, suffer shortness of breath, cough and catarrh, due to complications from soot.
"My baby and I have been battling with catarrh, cough and shortness of breath for over two weeks, until we went to the hospital. We were diagnosed with upper respiratory tract infection.  I wish the government will tackle this thing once and for all," she stated.
Mrs. Mary Unwomanugbo said she coughs out black phlegm as a result of soot, though she has not been able to get proper medical diagnosis due to financial constraint.
"I sneezed out catarrh and the mucus is usually black because of soot. Black soot rest on my solar panel, thus making it not to function properly as it blocks the panel from getting charged by the Sun."
Mr Itode Sam said he has never had upper respiratory tract infection, until he relocated to Port Harcourt.
"Since I came to Port Harcourt, I am always battling catarrh, difficulty in breathing and coughing out black phlegm," she she lamented.
Nengi Oruwari said her car is usually black due to soot. "If I wind down, inside the car gets black before I'll get to my destination. The body of the car is worst because that is the main soot deposit, especially if it rains."
Mr. Udofia Ekebo said he has been suffering from irritation on his throat as a result of prolonged exposure to soot.
Ekebo explained that based on his medical diagnosis, most people in Rivers State feel they have COVID-19, not knowing that it is complications from soot.
"At the hospital, the doctor told me to always put on my nose mask, drink warm water and take vitamin C, to protect myself from soot. I think soot is more dangerous than COVID-19 because right inside your house and without going out, soot can kill you over time, unlike COVID-19 where you'll have to contract it from an infected person."
Government's insensitivity
The Federal Government and its regulatory agencies in the industry have failed in monitoring the activities of multinational oil and gas companies that are into hydrocarbon exploitation and processing in the state.
The government at all levels have also failed in their duty to protect the lives and health of the citizens, as they have remained unconcerned to the plight of the masses, as long as crude oil revenue is not affected.
For the leader of #StopTheSoot campaign in the state, Mr Eugene Abels, the scourge from soot has demonstrated the failure of the state and federal governments.
"All tiers of government and regulators have shown negligence of duty and responsibility to the oaths which they swore to uphold and protect the lives, fauna and flora of the nation," he said.
Similarly, Dr Briggs lamented that the government over the years have kept extending the deadline to end gas flaring. He said: "From research, there are two major actors in the production of soot in Port Harcourt. The first is gas flaring and the second one is artisanal refineries.
"Gas flaring has been there since the 1960s. Artisanal refineries are less than 15 years in Nigeria. Why are we not talking about that havoc caused by gas flaring? The oil multinationals are also culpable and we must call them to account.
"As a way to improve the impending danger, the remediation of the environment needs to be done.
"If we must have the attention of the refiners, we should stop criminalizing the artisanal refiners and source ways to train them to be able to do their refining to help our health situation."
Way forward
Dr Green, who is a former Chairman of the Nigerian Medical Association, NMA, in Rivers state, said the Federal Government must monitor the activities of multinational oil and gas companies that are into hydrocarbon processing in the region.
"I will advise that the Ministry of Environment at the federal level should devise a way of monitoring the international oil companies and oil processing companies to actually know how much pollution they are emitting into the environment, if we have had such audit before now it would have been easy to know what is happening in these companies.
"It is time the federal government and its related agencies look more closely at what is happening at these mega hydrocarbon industries that are operating in the Niger Delta," he said.
For Fyneface of Advocacy Centre, alternative means of livelihoods must be provided for the Kpofire boys, such as modular refineries and Presidential Artisanal Crude Oil Refining Development Initiative, PACORDI, just as PAGMI for illegal gold miners in the northern part of the country.
"The oil multinationals should step up their game in pipeline security, warn or sack their staff who give information to vandals about when pressure is available in the pipelines to facilitate crude oil theft for artisanal refining activities that produce soot and impact the environment and the people," he said.
The Rotary Club of Port Harcourt Eco said artisanal refineries in the Niger Delta should be studied and upgraded to cellular refineries to tackle the menace of air pollution caused by hydrocarbon soot in Port Harcourt and environs.
The proposal by the Club will create a win-win situation for the environment and the government, as the people involved in illegal refining activities would be identified, taxed and their activities regulated by the government.
An environmental geologist, Dr Ferdinand Giadom, said since artisanal refining has been identified as one of the sources of soot, it was imperative for the bush refineries to be upgraded and regulated to refine products without harming the environment.
Giadom, who is a lecturer of geology at the University of Port Harcourt, explained that illegal refiners, commonly known as Kpo fire boys, were also helping the society by making products like diesel and kerosene readily available in the country, since the government's owned refineries are moribund.
The Geologist recalled that the study conducted by the Stakeholders Democracy Network in 2020 confirmed that AGO refined in the creeks by the so-called illegal refineries, had better quality than the ones imported into the country by NNPC and other oil marketers.
He wondered why artisanal oil refiners were criminalized in the Niger Delta, whereas illegal gold miners in the North were not criminalized or their trade destroyed by the government's security agencies.
"The best way is to study and upgrade illegal refineries to cellular refineries. I appreciate that the federal government is giving out license for modular refineries but the scale, size, scope and complexities of managing a normal refinery is beyond the capacity of artisanal refiners.
"I propose that the alternative is cellular refineries, which is micro, small refineries on the scale which these artisans can manage."
On how the cellular refineries operator will get crude to refine, since artisanal refiners vandalized pipelines to get products, the geologists explained that the heavy amount of money spent on bribing security agencies by the boys, would be used in purchasing crude legally.
"If they are licensed, we have organized economic activities that is known to government. Their business can be taxed by the government to raise revenue and that's one win.
"These boys will no longer be flying by night and doing things illegally if they now have licences to operate. Because of the crude method they use in refining the crude, a significant fraction of the crude is thrown into the environment, used to fire their refining systems.
"If we licence them, and we support them as much as possible, then put in place all the safety structures that ensures we don't unnecessarily impact negatively on the environment, that's a win again for the society, environment and public health, a win for livelihood and the economy.
"These artisans if they have a means of livelihood, they will actually earn a living from that and the environment will be safe. The cellular refineries will take care of the soot."
For Dr Briggs, the government at all levels must "provide specialized health facilities to cater for the health needs of the people."
Temporary measures to keep safe
The Consultant Surgeon, Dr Euro Green, has advised members of the public to practice simple hygienic measures of washing of hands, covering of the nose and protecting of children from soot.
"Wash your hands as often as possible because even when washing your hands you will see that the lather of the soap itself is black. Children should be protected, close your windows, wash your fruits and cover your food to reduce the loads of these hydrocarbons.
"Clean your floor and furniture with moist towels to reduce the accumulation of the soot; and when you are exposed outside wear a nose-mask or cover your nose with handkerchief to minimize the volume that is inhaled," he advised.