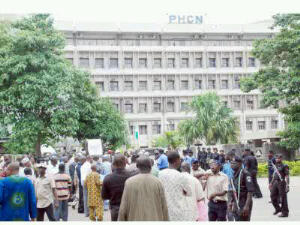 Victor Ahiuma-Young
11 March 2013, Lagos – Organised labour and the Federal Government meet today ahead of the March 15 ultimatum given to government to, among others, withdraw the N384 billion announced for the payment of the terminal benefits of workers of the Power Holding Company of Nigeria, PHCN.
Labour said not less than N700 billion is required to settle the workers' benefits.
Already, the National Union of Electricity Employees, NUEE, has begun massive mobilisation of members across the country for a showdown with government should it fail to address the 10-point grievances including the controversial N384billion which the union said was not only fictitious, but far below the mark.
NUEE said besides the fact that only 34,000 out of the 50,000 workers were captured by government, many staff grades were reduced by two steps as well as allocating to all of the workers 117 life span to reduce their total pay.
NUEE also claimed over 4,000 casual workers of PHCN who were ought to have been converted to full employees, were not included in the government calculation.
Leaders of NUEE had on March 1, after their National Executive Council, NEC, meeting in Abuja, handed down a 14-day ultimatum to the Federal Government to address 10-point grievances, failing which members would withdraw the services nationwide.