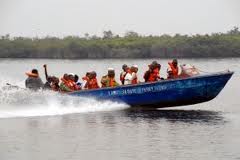 Godwin Oritse
21 October 2012, Sweetcrude, Lagos – The Lagos State Government said it will henceforth revoke the license of any operator caught overloading his boat on the waterways.
Managing Director, Lagos Waterways Authority (LASWA), Adeyinka Marinho, stated this while speaking with newsmen.
Marinho explained that first and second time offenders would be fined, while subsequently, such offenders would have their operations grounded.
"We have noticed that some of the boats at Badore, Ijede, Ikorodu and Bayeku jetties were often overloading and, what is paramount to us is the safety of the people.
"With inspection of each boat that is going on now, we would agree with the operators on the capacity of each boat. We have a capacity of where people sit in the boat, we will measure and say that this is the capacity of your boat," Marinho said.
Marinho advised passengers to always resist attempts by operators to overload their boats, for safety reasons.
"We have done a lot of work in the entire Ikorodu, we have met with operators in Bayeku, Langbasa and Ajah jetties on this issue we have caught one or two operators and they have been fined for overloading.
"It is going to be a major trust of our organisation because the rainy season is back and the water level is high.
"We are warning all operators not to allow people stay too close to the jetties, and enforcing this maximum capacity that would be allowed on any given boat," he said.
Marinho said that LASWA was not interested in the fines or sanctions but the safety of the passengers.
He advised all passengers to always use life jackets while on board any of the boats.
It will be recalled that ferry and boat operators had also condemned LASWA for alleged collection of registration charges on boats and ferries without the issuance of the required registration numbers and lıcence plate numbers.
The operators had also condemned the management of LASWA for alleged incompetence and unprofessional conducts ın the management of Lagos waterways.
Some of the operators had alleged in a recent chat with Shipping Position Daily that LASWA collects N25, 000 annually from each boat as lıcence renewal fee and N30, 000 as registration for new boats wishing to operate on the Lagos waters.