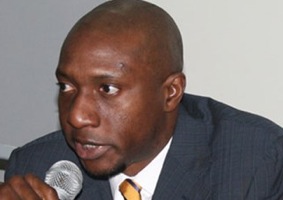 14 March 2012, Sweetcrude, Lagos – The House Committee on the Nigerian Capital Market (NCM) Tuesday threatened to arrest Oscar Onyema, the Chief Executive Officer (CEO) of the Nigerian Stock Exchange (NSE) for failing to appear before it at a public hearing in Abuja Nigeria.
Herman Hembe, the House Committee Chairman on the Nigerian Capital Market said that if he refuses to appear within the next 24 hours, he risk an arrest.
He said as the CEO of the Stock Exchange he ought to be on ground to answer some certain questions in respect of the dwindling fortune of the Nation's Stock Exchange and help in proffering solution on the way forward.
As earlier reported, in pursuant to the House of Representatives Resolution (HR. 103/2011) of Votes and Proceedings of Wednesday, 14th December, 2011, the Committee on Capital Market and Other Institutions said it will conduct a Public Hearing on the Resolution to identify the manifest causes of the Capital Market near Collapse with a view to finding a lasting solution.
The hearing which began today is expected to end on March 30 2012.
Below is a list of those invited to the hearing:
Consequently the following are invited:
1. Hon. Minister of Finance
2. Economic and Financial Crimes Commission (EFCC)
3. Securities and Exchange Commission (SEC)
4. Nigerian Stock Exchange (NSE)
5. Central Securities Clearing System (CSCS)
6. Central Bank of Nigeria (CBN)
7. Asset Management Corporation of Nigeria (AMCON)
8. Shareholders
9. Stock Brokers
10. Investors
11. Issuing Houses
12. Registers
13. Banks that recently went through mergers, acquisitions, rights issues, nationalisation, etc. as approved by SEC
14. The General Public