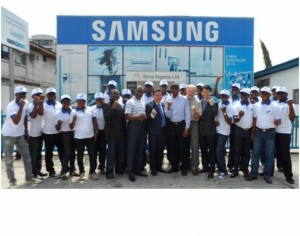 Kenneth Ehigiator
02 May 2012, Sweetcrude, LAGOS – NIGERIA's local content policy has got a boost as the 20 youths sent to the Samsung Heavy Industries in Geoje, South Korea, for a month's training in oil and gas returned to the country at the weekend.
The 20 youths are the first of hundreds of Nigerians to benefit from the training to prepare them for key roles in the country's oil and gas sector.
The trainees, who arrived the Murtala Muhammed International Airport, Lagos, aboard an Emirates' flight, were awarded the American Welding Society, AWS, 3 filet Tag 3 and 4 certificates respectively.
Speaking at the occasion, General Manager of the company, Mr. Frank Elizu, said the continuing training was the company's way of demonstrating its faith in Nigeria, adding that this would lead to increased local content in the nation's oil and gas industry, in alliance with President Goodluck Jonathan's transformation agenda.
Elizu, who was in company of the Managing Director, Mr. Jejin Jeon, said the next batch of youths would soon leave the country for South Korea.
He implored the beneficiaries to ensure that they put into practice all the skills they had acquired during the training.
He said the skills acquired during the training programme had also exposed the Nigerians youths to highly advanced and automated production and maintenance facilities at the yard, adding that they were introduced to the high standard health, safety, environment, quality assurances and control needed in the oil and gas sector.
Expressing the joy of acquiring such skills and certificates that would make them relevant and be of high demand professionally in the oil and gas sector, the trainees were full of praises for the company for given them the opportunity to be part of the training programme at no cost.
They also noted that said that aside from the skills they had acquired, the training also afforded them the opportunity to get full medical care and learn more about the culture and values of South Koreans.
Though not part of government's amnesty programme, the training of the youths was a response to appeals by the Amnesty Office of the Presidency that major players in the oil and gas industry in the Niger Delta assist in the capacity building for the teeming unemployed youths in the region.