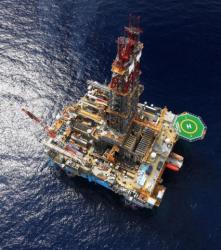 12-08-2011 – AP Moller-Maersk will move its Maersk Deliverer semi-submersible rig between three oil companies off the West African coast under a new deal, one of the companies has announced.
Australia-based African Petroleum Corporation spudded its first exploration well in the Apalis prospect on block LB-09 offshore Liberia earlier this week, one of two Liberian offshore blocks it currently holds.
In its announcement, African Petroleum said it had signed deals with Lukoil Overseas Cote d'Ivoire E&P and Vanco Cote d'Ivoire to release the rig for two wells each to be drilled after the Apalis well was completed.
The rig would then be returned to African Petroleum for an additional well.
The company said it had signed the deal due to the tightening rig market and limited availability of deepwater fifth generation drilling rigs in the West African region.
"The agreement to swap drilling slots with Lukoil and Vanco enhances the flexibility of the Company's two to three-well drilling program planned for 2012 as it allows the Maersk Deliverer to be reserved for the deepest water exploration drilling targets," the company said.
African Petroleum was planning to contract a second deepwater rig next year to accelerate drilling plans in the West African offshore.