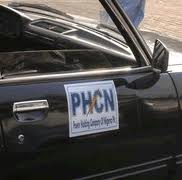 Chidi Nkwopara
07 December 2012, Sweetcrude, Owerri – Luck ran out on a middle-aged suspected vandal, Thursday as he was electrocuted while vandalising one of the transformers serving Akanchawa Udenwa area of Owerri metropolis.
It was neither clear how many people came for the damnable operation nor at what time of the night the vandal died in his act but residents of the area said they woke up to behold the morbid spectacle.
Investigations also revealed that the suspected vandal wanted to exploit the periodic but prolonged public power outage in the area to actualise his devilish plot before power was suddenly restored to the facility.
Confirming the sad incident, PHCN Senior Manager, Public Relations, Mr. Ositadinma Ugwuafor, said it was the second time a vandal was being electrocuted in action in that area.
His words: "In the instant case, the vandal had succeeded in cutting off the up-riser cable of the transformer, as well as the earth copper wire worth thousands of Naira. A long dagger and hack saw were recovered close to the lifeless body."
Ugwuafor said apart from ageing facilities, one of the major headaches of PHCN was the vandalization of its properties by criminals, adding that the dead vandal had already thrown the area into pitch darkness..
He said: "We are determined to serve the public but we are continually faced with acts of vandalism. The inordinate ambition of some misguided elements in our society to get rich quick lures them to these damnable acts."
At the time of going to press, the lifeless body of the suspected vandal was still lying close to the Power Holding Company of Nigeria, PHCN, facility, while people streamed to the scene to identify him.