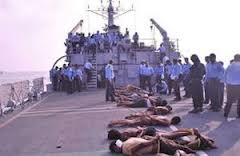 Jacob Ajom
21 January 2013, Sweetcrude, Lagos – President of Association of Merchant Navy, Engr. Olakunle Oladele, has called on President Goodluck Jonathan and security operatives in the country to beam the searchlight on Nigerian waterways, which he described as deadly.
This followed the recent killing of a boat captain, Patrick Abormegah, by suspected sea pirates in the Niger Delta region.
Abormegah, who hailed from Badagry, Lagos State, was shot dead by suspected sea pirates said to be operating along the Andoni River, near Andoni village, Rivers State, on December 20, 2012.
Speaking with Vanguard, Engr. Ololade, said the activities of sea pirates had become a major headache to fishermen in Akwa Ibom, Bayelsa and Rivers States.
He said: "Before the killing of one of our colleagues on December 20, the sea pirate gang had attacked and kidnapped the captain and chief engineer of another boat and forcefully took millions of naira from them. When they struck again on December 20, they ordered the late captain to give them huge amount of money. After collecting what was available, the attackers shot him. You can imagine what we are passing through in the hands of sea pirates in our own country."