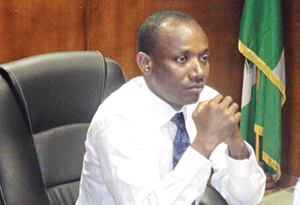 Oscarline Onwuemenyi
21 December 2011, sweetcrude, ABUJA – The Chairman of the Nigerian Electricity Regulatory Commission, NERC, Dr. Sam Amadi, on Wednesday inaugurated a committee to investigate corrupt, exploitative and illegal practices through inadequate or poor metering by staff of Distribution Companies (DISCOs), as part of the Commission's public inquiry into the Nigerian Electricity Supply industry.
The Committee is also charged with the mandate to determine the extent of metering of electricity customers in the country, as well as factors which delay the procurement and installation of meters in accordance with rules and regulations in the industry.
Amadi, who spoke to journalists in Abuja, stated that the rational for the inquiry is "to arrest the scourge of complaints which centre on the experiences of customers with regards to metering, billing and consumer care."
He added that, "The inadequate supply of energy is most important technical issue but is not the priority social or human issue. The corruption of staff of utilities who exploit customers in many ways is the major challenge in the sector. This assertion, however, needs to be verified and stopped.
"This event is therefore very important in the Commission's data gathering process aimed at addressing the perennial problems of metering in the Nigerian electricity supply industry."
The committee is expected to recommended remedial actions to deal with lapses and corrupt practices with regards to metering and customer care in the industry, as well as suggest how NERC can ensure effective and quick metering of customers in the industry.
It would also suggest a framework for the effective implementation and monitoring of metering and billing activities to take effect after the Multi-Year Tariff Order, MYTO, which is expected to kick off next year.
Amadi further noted that in order to ensure transparency and openness in the process of addressing the root cause of the malaise, the Commission is initiating the fact-finding mission with the active participation of some distinguished members of the Nigerian population selected from all over the country.
"These eminent personalities will be joined by two Commissioners and other staff of the Commission for guidance and enhancement of the credibility of the process. This is a fact-finding and exploratory mission and not a witch-hunting process," he added.
Membership of the committee, which is chaired by notable legal practitioner, Mr. Bamidele Aturu, cuts across various sectors and disciplines including labour, civil society and the Power Holding Company of Nigeria (PHCN).
According to the NERC boss, this was done to promote fairness, objectivity, and balanced reporting of the facts as discovered from the public sittings to be held across the country.
"It is envisaged that at the end of the three months allocated for this assignment, the committee would have gathered adequate data and information from memoranda and oral evidence to be received from the general public, academia, operators and ordinary electricity consumers on the issues affecting metering in the NESI," Amadi stated.