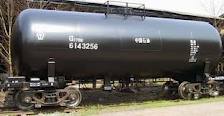 Godfrey Bivbere
25 January 2012, Sweetcrude, Lagos –The planned inauguration of 20 fuel tanker wagons meant for the haulage of petroleum products using the railway system by the Minister of Transport, Sen. Idris Umar yesterday was foiled after a senior executive of Nigeria Maritime Administration and Safety Agency (NIMASA) stopped offloading of the tankers from the ship due to some dangerous cargoes suspected to be explosives on board the ship.
The minister who arrived at the Apapa Port Greenview Terminal managed by the Dangote Group for the inauguration of the wagons, was held down in the car for over 30 minutes, as the NIMASA's deputy director for maritime safety and standards, Captain Warriddi Enisuoh explained why the cargo could no longer be offloaded from the ship.
The federal government had imported the tankers from China to kick start haulage of petrol and other refined oil products from the seaports to ease pressure on the roads. The pressure caused by haulage of petroleum products in particular is believed to be responsible for the country's decaying road infrastructure.
Concerned for his safety, the transport minister had to abandone the inauguration of the tankers.
It was gathered that the Nigeria Police Force claimed to have imported part of the cargo suspected to include explosives, but a call put through to the Police Affairs Ministry did not yield any result.
Capt. Enisuoh said although the dangerous goods were in the manifest, the consignees had failed to confirm the products, adding that at a time in Nigeria, when bomb blasts had become the order of the day, the maritime agency could not afford to play with its security functions.
He also explained that the way the ship berthed, the agency had reasons to suspect that all was not well with the vessel. He therefore, demanded that offloading of the tanker wagons meant to be inaugurated by the minister be suspended.
"When we did a surveillance of this terminal this morning, this ship was not on berth, but we knew that it has been in the nation's waters in the last seven days. As much as the items in question were manifested, they needed to be confirmed by the consignees. Everyday in this country, we hear reports of hundreds of people being killed by bomb blasts in some parts of the country. We can no longer joke with security as far as this agency is concerned.
"However, I will not want to pre-empt the situation. We have begun an investigation to determine the exact nature of the cargo," Enisuoh stated.
Briefing journalists shortly after the departure of the minister, the Managing Director of the Nigeria Railway Corporation (NRC), organizer of the inauguration, Adeseyi Sijuade, said the programme had to be postponed due to "some technical hitches".
"We have been asked to stop offloading the tanker wagons. In a few days, the minister will be here again after the tankers would been completely offloaded to inaugurate them," he said.