05 January 2015, Lagos – Nigeria has lost over N21.37bn in the last six weeks as a result of vandalism of the Trans-Forcados and the Escravos-Lagos pipelines that convey crude oil and gas to various energy plants.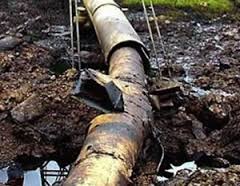 The Nigerian National Petroleum Corporation on Wednesday said there had been a recent increase in attacks on crude oil and gas pipelines, stressing that the Escravos-Lagos Gas Pipeline was vandalised over the weekend with four breaks.
It stated that the sudden increase in the activities of saboteurs around the Trans-Forcados Pipeline and the Escravos-Lagos Pipeline in the last six weeks had robbed the nation of several billions of naira to the detriment of the national economy.
The corporation stated that it was losing between 50,000 and 60,000 barrels of crude oil and condensate on a daily basis to pipeline breaks.
The price of Brent crude as of February 2, 2015, according to figures obtained from the corporation on Wednesday, was $54.75 per barrel.
This means that the corporation had been losing about $3.285m or N551.88m on a daily basis for the past six weeks, giving a total of $137.97m or N21.37bn during the period under review.
Commenting on the development, the Group Executive Director, Gas and Power, NNPC, Dr. David Ige, said in a statement that a syndicate might be behind the economic sabotage.
He stated that most power plants, including those in Calabar, Alaoji, Omoku, and Olorunsogo, had been connected to gas, but regretted that all the efforts of the Federal Government to construct massive gas pipeline infrastructure were being sabotaged by vandals.
Ige lamented that between January and February, the Trans-Forcados Crude Pipeline was attacked and vandalised four times, adding that none of the corporation's gas pipelines had been able to run two straight days without been brought down.
– The Punch