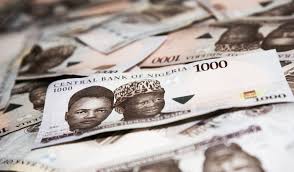 22 April 2017, Lagos — The Naira sustained its momentum on the parallel market yesterday, appreciating significantly by N20 in one day to close at N380 to the dollar, stronger than N400 to the greenback at the close of trading the day before.
 Similarly, the local currency firmed up on the Bureau de Change (BDC) segment of the market yesterday, trading at between N376 and N378 to the dollar in Lagos, Abuja and Kano.
The gains were largely influenced by increased dollar liquidity in the economy, as the Central Bank of Nigeria (CBN) sustains its intervention in the foreign exchange (FX) market.
The CBN pumped a total of $380 million into the market between Tuesday and Wednesday this week.
It also simplified the documentation process for small and medium-sized businesses to enable them to import eligible items and increased both the amount and number of sales to BDCs.
According to a source at the central bank, the naira is expected to appreciate further when the BDCs get another tranche of $20,000 from the CBN today.
Analysts had rightly forecast that with the forays by the CBN in the various segments of the market, the naira would strengthen against the greenback and other convertible currencies this week.
Financial Derivatives Company Limited yesterday said that the naira would strengthen further on the parallel market "in the days to come".
CBN spokesman, Mr. Isaac Okorafor recently assured FX end-users that the central bank would sustain its dollar injection in the market.
He also asked market participants to abide by the rules to ensure the preservation of the external reserves, the stability of the financial system, and growth of the economy.
Despite all dollars pumped into the market by the central bank, the accretion of Nigeria's external reserves remained undented, rising by $279 million to $30.586 billion as of Wednesday, from $30.307 billion two weeks before.
Also, following the federal government's bid to create the enabling environment for doing business in Nigeria, the central bank yesterday announced the reduction of documentation requirements for imports and exports.