Mkpoikana Udoma
Port Harcourt — The Nigerian Navy has taken over a 299,995metric ton vessel, MT Heroic Idun, arrested in Equatorial Guinea, after failed attempt to lift crude oil in Nigeria without prerequisite approvals.
The vessel, according to the Nigerian Navy, had entered Akpo oil field, deep offshore Bonny, to load crude oil on the midnight of 7th August 2022, without having due NNPC approval and Naval clearance.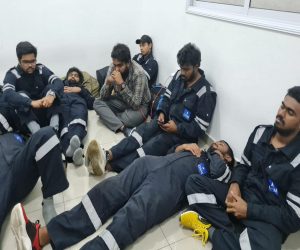 The vessel which was accosted by the Navy sailed out of Nigeria's waters towards the Nigeria-Sao Tome & Principe Joint Development Zone and into the Equatorial Guinea EEZ, seeking to flee, without lifting oil from the oilfield.
Chief of Policy and Plans, Naval Headquarters, Rear Admiral Saidu Garba, said the vessel built in 2020 is owned by Messrs. Idun Maritime Ltd, with Messrs Inchcape Shipping as its agent in Nigeria, and OSM Ship Management AS as the vessel manager.
Grabs explained that having receieved the vessel in Malabo, Equatorial Guinea lastweek, the MT Heroic Idun will now be brought back to Nigeria for further investigations by the Nigerian Government.
"It must be pointed out that at the time it was accosted, it had not lifted any crude oil from the oilfield, and it also subsequently did not lift any Nigerian oil. It however stands accused of breaking the laws of Nigeria in other ways.
"The vessel thereafter raised a false international piracy alarm of being under attack by the NN ship. It is instructive to note that this is the same ship MT HEROIC IDUN had earlier had contact and communicated with, that she later referred to as a pirate ship.
"Nigerian authorities later made contact with the Equatorial Guinea Navy (EGN), and based on exchange on information, the Vessel was arrested by the Equatorial Guinea Navy on 10th August 2022 and handed over on November 6th, 2022, to the Nigerian Navy."
The Navy also said it did not arrest the vessel becuase there was no need for the Nigerian Navy to pursue the fleeing ship, or forcefully attempt to arrest it.
"Considering the fact that there is a robust regional security architecture that could be depended on to ensure that the ship is held accountable. This is what was successfully done. Credit should go to the 'Yaoundé Architecture', as it is known, for enabling this seamless security cooperation."
The Navy also stressed that Nigeria has followed due process in its handling of the entire incident and will continue to abide by the principles of due process and fair and transparent investigations.
Graba pointed out that the vessel will be given three charges, including entering a restricted zone around an oilfield without authorization.
Others are, "Illegally attempting to load crude oil from Nigeria without appropriate documentation, which is tantamount to economic sabotage.
"Falsely accusing a Nigerian Navy Ship of piracy on international maritime reporting platforms. It should be noted that she had communicated with the Naval Ship, and there was therefore no ambiguity about the identity of the Nigerian Navy Ship."
Follow us on twitter