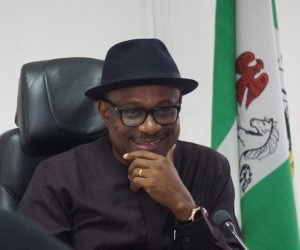 OpeOluwani Akintayo
Lagos — The Executive Secretary, Nigerian Content Development and Monitoring Board, NCDMB, Engr. Simbi Wabote, says agency has achieved 32 percent value retention from the annual spend in the oil and gas industry.
According to him, only five percent was being retained when the Nigerian Content Act was enacted in 2010, and this grew to 26 percent in 2017, after seven years of focussed implementation.
Wabote disclosed this as he explained how local capacities, developed through the implementation of the Nigerian Content Act, sustained the operations of the Nigerian oil and gas industry at the height of the COVID-19 pandemic.
He made the revelations while delivering a goodwill message at the Nigerian Content Capacity Building Workshop organised for media stakeholders in Lagos.
The NCDMB executive secretary explained that operations continued without disruptions in the oil and gas sector, even after many expatriates had returned to their countries, because Nigerians had developed robust human and infrastructural capacities to operate the highly-technical sector.
Wabote, who through the zoom meeting platform, enumerated some of the achievements recorded by the Board during the COVID-19 pandemic to include commissioning of the NCDMB new head-office building by President Muhammed Buhari on August 13, increase of the size of the Nigerian Content Intervention, NCIF, Fund from US$200 million to US$350 million and addition of new products to the NCI Fund, notably the Working Capital Loans and Women in Oil and Gas Loans.
Other accomplishments during the period, according to him, include the approval of the US$50 million Nigerian Content Research and Development Fund by the NCDMB Governing Council, commissioning of the 5,000 barrels per day Waltersmith Modular Refinery at Ibigwe, Imo State in November, and approval of additional partnerships in the Nigerian Content commercial ventures programme, especially in the gas value chain.
He added that the Board also progressed the implementation of the 10-year Strategic Roadmap, held the checkpoint review session for the roadmap, continued the construction of Oil and Gas Industrial Parks and secured the Final Investment Decision, FID, and award of contracts for the Nigeria Liquefied Natural Gas, NLNG, Train 7.