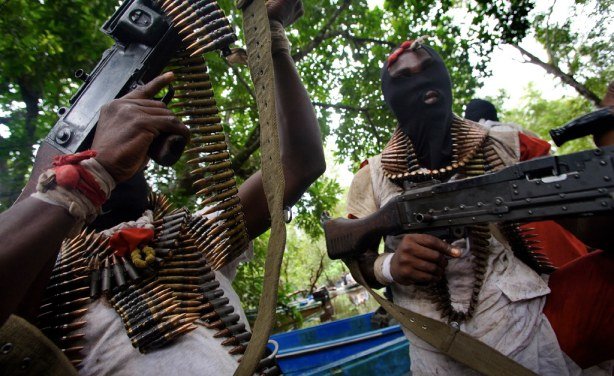 Oscarline Onwuemenyi
26 October 2017, Sweetcrude, Abuja – The Reformed Niger Delta Avengers (RNDA) and a coalition of nine other militant groups, has threatened to resume fresh hostilities if President Muhammadu Buhari failed to distance government and its agencies from the groups such as the Pan Niger Delta Forum (PANDEF), even as it maintained that the group could not speak or negotiate with the Federal Government on behalf of the region.
A statement signed by the leader of the coalition, self-styled 'Major General' Johnmark Ezonbi, said, "RNDA, with the coalition of other militant groups in the region, wishes to call on President Muhammadu Buhari not to have anything to do with the PANDEF group, as they cannot speak or negotiate with the Federal Government on behalf of the Niger Delta region."
When RNDA first challenged the supremacy of PANDEF and announced a parallel body, Pan Niger Delta People's Congress (PNDPC) last month, former Federal Commissioner for Information, Chief Edwin Clark, ex-governor of Akwa Ibom State, Obong Victor Attah, and others, rose to declare that the body remained the authentic voice of the Niger Delta.
Rivers State Leader of PANDEF, a former Minister, Alabo Graham Douglas, early in the week, ahead of the Forum's fourth session in Port Harcourt, pleaded with youths and agitators in the region to be patient with the elders, saying the Federal Government was committed to the development of the region.
But, according to the RNDA, "The coalition will be forced to resume hostilities in the creeks in a well coordinated approach, if the Federal Government enters into any discussion with PANDEF, as the group no longer enjoys the blessing and support of militants and stakeholders in the region."
It added that, "The Federal Government should enter into fresh talks with the Pan Niger Delta People's Congress headed by HRM Pere Charles Ayemi-Botu, other respected traditional rulers and stakeholders of the region, including Rev Dr Mike Emuh, the national chairman of HOSTCOM and High Chief Dr. Francis Inegbeniki representing Edo State.
"The proposed PANDEF meeting in Port Harcourt, Rivers State, scheduled for today, has put paid to speculation that the group was an arm of a failed political party with the calibre of persons invited former governors, former ministers, former senators and former House of Representatives members from the Niger Delta."