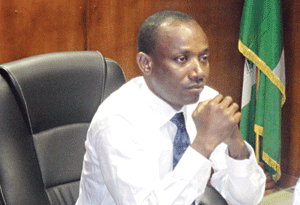 *Seeks stakeholders' buy-in for new tariff structure
Oscarline Onwuemenyi
23 May 2012, Sweetcrude, ABUJA – The Nigerian Electricity Regulatory Commission (NERC) has explained that the new tariff structure which is expected to take effect from the beginning of next month would enthrone efficiency and good governance in the Nigerian Electricity Supply Industry (NESI).
The Regulator alsor said it is not leaving any stone unturned in its quest to creditably implement the new electricity tariff structure which is due for announcement and kick-off nine days away from today.
Chairman of NERC, Dr. Sam Amadi, who stated this in Abuja yesterday at a stakeholder's roundtable on power sector reform, pointed out that Nigerians who oppose the new tariff hike do not understand its actual intent for the power sector.
According to him, "Let there be a new conversation on this tariff because I want Nigerians to understand that this is not like the fuel price increase, but a well calibrated price and I appeal to Nigerians to understand that because overall, this tariff is cost efficient and we need the support of Nigerians to fight the corruption in the sector for efficiency.
"The reason why the sector has collapsed is due to lack of good governance, promotion of self interest amongst policy makers and the truth is that the sector will collapse further if we don't get this tariff right, even if we get it right and do nothing more, it will still collapse."
He stressed that NERC would continue its advocacy for the adoption of the new electricity pricing regime contained in its Multi Year Tariff Order 2 (MYTO-2) by Nigerians in all strata.
Amadi further cautioned civil society organisations in the country from opposing the new tariff, adding that the price increase was just a component of the whole reform in the power sector and should not be treated as an end in itself.
"We want to consult with the civil societies, talk to them and get their feedback because we recognise that the price review is one small segment or component of the whole reform and from day one of this, we have said that everybody should be part of the whole process, unfortunately, we have an organised industry stakeholder but not an organised consumer stakeholder and in each of the consumer assembly we have gone to, I have always emphasised that civil societies should organise themselves alongside a voice because policy making is all about voice.
"Beyond challenging this tariff which I think people should not, they should organise to make sure that the essence of this reform which include metering, customer service, end of estimation, bringing financial discipline to the sector where for many years investments have been wasted, are not allowed to be overlooked," he added.
The NERC boss urged civil societies in the sector to get organised and advocate for transformation in the power sector, adding that with or without the new tariff, the sector will continue to remain inefficient owing to poor governance mechanism in the sector.
According to him, "The sector will not get it right if we don't get it right; this tariff is actually not the answer to the problems of the sector but only presents an opportunity for investment to come. It will not fix discipline and corruption and so it is not an end in itself; the real issue should be bringing good governance to the sector.
"People should not think about opposing this tariff but sanitising the sector such that when you pay money, you get value for that. What people should be bothered about in June when the tariff kicks off should be how the proposed 18 months metering plan would be achieved, how best to enthrone good governance in the sector, we should not get ourselves hung on this tariff," Amadi noted.