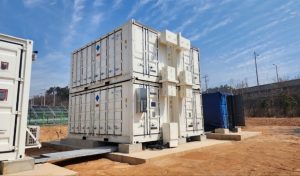 Lagos — NGK Insulators, Ltd, NGK, has announced that it has an order from BASF Stationary Energy Storage GmbH, BSES, a subsidiary of German chemical manufacturer BASF SE. and has started operation of a NAS® battery system for storing electric power delivered to South Korean electric power systems manufacturer G-Philos Co., Ltd.
The NAS battery system in Naju comprises 4 battery containers and (1) has a maximum 1,000 kW-dc power and 5,800 kWh-dc dischargeable energy under a demonstration project for comparison of performance of stationary storage batteries at a testing site of Korea Electric Power Corporation (KEPCO) in Naju City, South Korea.
KEPCO is promoting the introduction of storage batteries to expand domestic renewable energy use, and the results of this demonstration project will set performance standards for large storage batteries in South Korea.
The highly durable NAS battery, which has a large storage capacity and is able to discharge over a long period, was selected for this project because of its high reliability based on an extensive track record of use in the stabilization of widely fluctuating renewable energy and because it has received high praise for its certification and evaluation reports from UL Solutions, a global third-party safety science company.
NGK previously has delivered a NAS battery (2) to G-Philos in 2020 for the first Power-to-Gas (P2G) * demonstration project in South Korea, carried out by Korea Midland Power Co., Ltd. (KOMIPO) at Sangmyung Wind Farm, Jeju Island, South Korea.
The NAS battery was used as a storage battery for storing and discharging surplus electric power from wind power generation and supplied electric power to hydrogen manufacturing equipment in a stable manner, thereby realizing the manufacture of green hydrogen without impacts from the significant fluctuations of wind power.
Since it is highly safe, the NAS battery can be installed in close proximity to hydrogen manufacturing equipment and has been evaluated as suitable for P2G applications. For the P2G demonstration project to be conducted by G-Philos and Korea Institute of Energy Research (KIER) in 2024, it plans to order a NAS battery system (3) with a maximum 2,000 kW-dc power and 11,600 kWh-dc dischargeable energy. It is to be used as a back-up power source for stable hydrogen manufacturing using renewable energy.
NGK and BSES concluded a sales partnership agreement for NAS battery in 2019, and NAS battery sales have expanded through BASF's global sales network. NAS batteries are used in various applications including stabilization of renewable energy, electric power demand and supply balancing, and emergency power sources.
They have been installed in over 250 locations around the world and have a stable operational track record of more than 20 years. NGK will continue to partner with BSES to further promote marketing and sales activities for NAS batteries as a large-capacity storage battery with a strong track record, contributing to the expansion of renewable energy introduction and realization of carbon neutrality globally.
Follow us on twitter