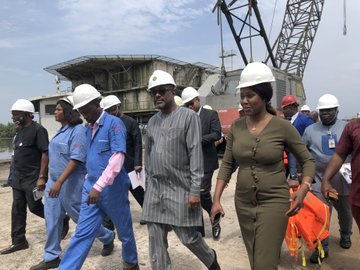 Warri — The Executive Secretary of the Nigerian Content Development and Monitoring Board (NCDMB), Engr. Kesiye Wabote has commended the Niger Benue Transport Company (NBTC) for keeping the company operational for over 50 years and changing its business strategy to meet emerging opportunities and trends.
He spoke on Thursday after visiting the company's facilities in Warri, Delta State, noting that the company had achieved a rare feat in Nigeria. "It is difficult to see a company last this long in our clime.
I hope to see NBTC live for 100 years and acquire the Royal Seal," he added.
He commended the owners and managers of NBTC for accomplishing the company's transition from a trading company into an oil servicing firm, with assets and operations in marine vessels, fabrication, ship repairs and ancillary businesses.
Wabote said NCDMB will support NBTC to continue to take advantage of the changing times to provide increased value in the sector.
He stated that NBTC had huge potential, noting "that there are opportunities for us to harness in this particular facility to increase Local Content penetration, particularly in servicing the oil and gas sector."
He added that "there is also huge potential to create jobs for the teeming youths around Warri and its environs, and also actively support the offshore business that is emerging in our economy today. I think that with focus and the right kind of support, they are prepared to go places and provide services."
The Executive Secretary explained further that the Board had a strong interest in the marine sector because of its importance to the operations in the oil and gas industry.
He recalled that the marine sector was dominated by foreign players before the Nigerian Oil and Gas Industry Content Development (NOGICD) Act was signed into law in April 2010. He noted that local participation in the sector was about four percent at that time, before the Board begun to encourage Nigerian investors to participate and that led to a marked increase in local participation in the marine sector to 40 percent, with potential to grow further.
Kindly like us on facebook