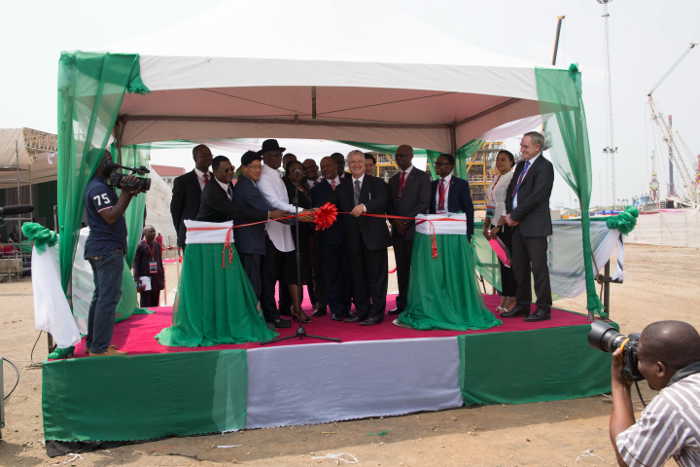 10 February 2016, Sweetcude, Lagos – Mr. Anwar Jarmakani, chairman of Nigerdock, in this speech at the recent commissioning of the Sonam topside module built by the company for the Chevron/NNPC Domestic Supply Obligation gas project, harps on Nigerdock's consistent investment in infrastructure, facilities, equipment and people, and the company's contributions in helping actualise the nation's industrialisation drive. 
Nigeria's vision has always been to maximise the immense potential from its oil and gas resources to foster national economic development, enhance the capabilities of its people, and build a sustainable and efficient industrial base, with a highly skilled indigenous workforce performing at global standards.
Over the years, Nigerdock has consistently lived these values. It has invested in its people, infrastructure, equipment and facilities and continue to lead the market.
Nigerdock and its parent company, the Jagal Group, fully identify with the objectives of President Muhammadu Buhari's administration and believe they can play a crucial role in helping the government achieve them.
Nigerdock has made some positive in-roads towards achieving the vision of transforming Nigeria, the successful completion and delivery of the Sonam Non-Associated Gas Well Platform for which we are here gathered being the latest achievement in that regard.
Sonam Non-Associated Gas Well Platform
The Sonam Non-Associated Gas Well Platform, NWP, is the final piece in the set of structures built by Nigerdock for the Sonam project. In November 2014, Nigerdock successfully fabricated and loaded out the Sonam Jacket, which till date is the largest ever jacket fabricated in Nigeria.
These structures are required to deliver a combined 420 million cubic feet per day, mmcf/d, of natural gas to Chevron's Excravos Gas Project which provides feedstock for power generation, of which Nigeria country is in dire need.
These installations will importantly boost Nigeria's power generation ability and provide much needed power for Nigeria's domestic and Industrial needs. They will also significantly eliminate gas flaring from the Project Sponsor's assets in fulfilment of government's gas flaring policy; and attract gas investment opportunities thereby boosting the Buhari administration's effort to diversify the economy from dependence on crude oil proceeds.
Nigerdock is humbled to play a part in such landmark achievements which will no doubt have a transformative effect on the nation.
The Sonam topside module is the largest ever built in-country, and significantly this feat was
achieved by an indigenous company.
Nigerdock is proud to have been entrusted with the opportunity to deliver this landmark project. The great achievement would not have been possible without the effort and drive of the company's very talented workforce who have shown diligence and dedication from the very start of this project.
The construction involved over 2 million man-hours without any lost time incidents, and this was achieved without compromising safety standards and objectives.
Nigerdock can do much more than this, and raise the bar. It is prepared to take on even more ambitious projects and will not rest on its laurels to ensure that Nigerians have something to be proud of.
Other achievements
Nigerdock is known across the industry as the "Champion" of Nigerian Content. It has attained this recognition not just by consistent investment in its infrastructure, facilities and equipment, but by unwavering commitment to developing our people's skills.
The Nigerdock Training Centre is the foremost Vocational Training institution in the country. The company's proactive approach to investing in resources has put it in a foremost position to meet the challenges of the industry with regards to its project delivery needs.
Nigerian Content Law
There is no doubt that since the Nigerian Content act was signed into law, there has
been a dramatic increase in the capabilities of indigenous companies in-country. This administration must ne appreciated for its sustained efforts to ensure that competent Nigerian companies are given the opportunity to secure work in recognition of their investments.
Appreciation also goes to the Minister of State for Petroleum Resources, the Nigerian National Petroleum Corporation, NNPC; National Petroleum Investment Management Services, NAPIMS; the Nigerian Content Development and Monitoring Board, NCDMB and NEPZA for sharing and supporting the vision of this administration.
To our clients and partners – Chevron Nigeria Limited – we say thank you for believing
in us, encouraging us and remaining committed to the growth of Nigeria's industrial
capability.
Today's event is no doubt another milestone in the evolution of Nigerian Content
Development. We firmly believe in the prospects for Nigeria; in spite of the harsh
economic climate, it is our view that the future is bright.
The Global Oil Economy
The past few months have been one of major anxiety in Nigeria and across the world.
Many of these are in response to the falling price of crude oil, Nigeria's major export
and foreign exchange earner. This has had a ripple effect on our economy and can
be seen in the falling value of the Naira, redundancies, cancelled projects and
increasing challenges for hardworking Nigerians to make an honest living.
At Nigerdock we are very proud of our highly skilled and talented workforce. Over the
years we have invested millions of man-hours in their training, capacity and vocational skills development and their welfare. We are therefore concerned that projects that were originally scheduled for commencement are now being shelved to the detriment of companies like ours.
With no new projects on the horizon, companies may be forced to shut down and workers sent home. It is not our intention to send anyone home, because we see
them not just as friends and colleagues, but as family.
This underlines our approach to investing in our people, facilities and infrastructure in order to ensure that we are in a primary position to provide best in class solutions to our clients and partners. The popular Nigerian saying is that the reward for a job well done is more work. And so we are calling on Mr. President and his administration to unlock project opportunities for the industry and give Nigerians more work.
FPSO In-Country Integration
Nigerdock has delivered some of the largest fabrication projects to be made in Nigeria. A testament to this is its participation on multiple Floating Production Storage and Offloading, FPSO, projects including Bonga for Shell, Agbami for Chevron, Erha for Mobil, and Akpo and Usan for Total.
As we develop further we are focused on fabrication and integration of FPSO modules in Nigeria. Nigerdock has the capacity, infrastructure and workforce to fully execute in-country integration of FPSOs through a programme of measured development that minimises risk.
FPSO projects can retain significant jobs in-country. The Nigerian Content Development is an industrialisation programme. We must stop exporting thousands of jobs that ordinarily should benefit Nigerians. We remain committed and our yard is ready to make this a reality today!
Diversifying the Economy
I had noted earlier that one of the unique features of this project (Sonam Non-Associated Gas Well Platform) is its role in the power generation and the creation of additional value through the gas supply chain.
We completely align with and share Mr. President's vision of the urgent need to diversify the Nigerian economy from dependence on one single resource in a land blessed with abundant human and natural resources.
Now more than ever, Nigeria's economy needs to be diversified; and as we learn to shift our focus from dependence on crude oil, we can begin to tap into other resources which this country is amply blessed with.
This will spur growth and development in the manufacturing, agricultural, textile and other sectors of the economy thus creating jobs for our youths. But that will only take us so far. In the new age of the knowledge economy, with ICT driving technology and with cloud computing and similar solutions, we must begin to prepare Nigeria andNigerians to thrive in the cyber age.
On our part, Jagal has taken a bold step to support ICT development with the investment in a mega data centre here in Nigeria, another major step for local content development. Our new company, Rack Centre, here in Lagos, Nigeria is the first tier III data centre in sub-Saharan Africa and is the heart of the internet exchange for the nation. We are proud to have already won several local and international awards in recognition of our achievements.
Here on Snake Island which is home to Nigeria's largest Oil and Gas Integrated FreeZone, providing all the services and support functions to deliver a various range of solutions to multiple projects and clients at any given time. Snake Integrated Free Zone is Nigeria's first fully Integrated Deep Water Support Centre.
It is our hope that Mr. President's administration will retain the recent focus on Local Content Development. It has proved in a very short time to be a powerful tool in unlocking inherent value for Nigeria and Nigerians to benefit from.
If companies like Nigerdock are given the opportunity to leverage their strengths we can build on our successes to participate on more challenging projects. Building on what we have done, we can move on to projects such as FPSO integration that multiply the benefits to Nigeria.