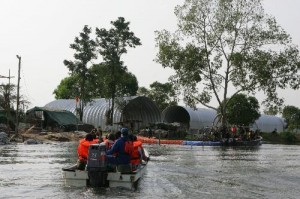 16 May 2012, Sweetcrude, ABUJA – President Goodluck Jonathan says Nigeria would take necessary steps to ensure mutual exploitation of hydrocarbon resources along its border with Cameroon.
Jonathan stated this when he received Mr Ahmadou Ali, Vice Premier of the Republic of Cameroon, who brought a special message from President Paul Biya.
"We shall consider the proposals you have brought and thereafter call a meeting to discuss relevant issues that will enable Nigeria and Cameroon to start exploitation of hydrocarbon resources along our border."
The President expressed appreciation to Biya for signing a trans-border security agreement with Nigeria.
He also thanked Biya for cooperating with Nigeria in the fight against terrorism, and called for regional alertness to check the spread of terrorism.
Jonathan said Nigeria would continue to lead the regional effort against terrorism, adding that continued cooperation and collaboration among contiguous nations would help check the menace.
Earlier, Ali presented his country's counter-proposals to Nigeria on the exploitation of hydrocarbon resources along the border.
He said that border demarcation in accordance with the judgment of the International Court of Justice was almost complete.
Ali expressed Biya's deep sympathy to Nigeria for the terrorist attacks in the country, adding that Cameroon would support all efforts to check the menace. (NAN)