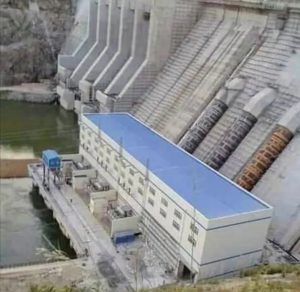 Oritsegbubemi Omatseyin
Lagos — Nigeria's Minister of Power, Abubakar D. Aliyu has announced the completion of construction of the 700MW Zungeru Hydropower Project, adding that that the Transmission Company of Nigeria, TCN, is ready to accept power transmitted from the plant.
The hydropower project is located on the Kaduna River near Zungeru in Niger State, about 150km from the capital Abuja.
According to Nigeria's Bureau of Public Enterprises, BPE, the plant's estimated cost is $1.3bn. The Export-Import Bank of China provided a $984.23m preferential loan facility for the construction, with the federal government providing the rest.
Construction of the plant, which commenced on 28 May 2013, was carried out by a joint venture of Sinohydro and China National Electric Engineering Co, CNEEC. The facility includes a roller-concrete compacted dam (90 meters in height and 1,090 meters in length), an intake tower and diversion tunnel, an underground powerhouse, a power transmission line, and an access road.
The plant's underground powerhouse has four hydro turbine and generator units rated 175MW each. The plant is expected to generate about 2.64 billion kWh of electricity annually and provide flood protection, and water for farmland irrigation.
In February, the Federal Government approved Abuja-based Mainstream Energy Solutions Limited, MESL, – the current concessionaire of the Kainji and Jebba hydropower plants – as the preferred bidder for the Zungeru Hydroelectric Power Plant concession.
While appearing in front of the Senate Committee on Power earlier this month, the Minister noted that "the hydroelectric infrastructure is still owned by the federal government, and the concession is only for 30 years."
He also added that the government had been diligently addressing all the challenges facing the Zungeru power project to make it secure and functional for more electricity supply to meet the energy demands of Nigerians. According to the BPE, MESL will pay the government $70m annually, netting the government about $2.1bn over the concession period.
Although the International Renewable Energy Agency (IRENA) estimates Nigeria's total exploitable hydropower potential at 14GW, the current installed capacity is just about 2GW. The country's first hydroelectric project, the 760MW Kainji hydro plant, was commissioned in 1968. The government has added approximately 1.3GW of installed hydroelectric capacity over the following five decades.
In September 2017, the federal government approved its most ambitious project, the 3,050MW Mambilla Hydroelectric Plant. The project will cost $5.792bn, with 85 percent of the financing coming from debt. Despite the project's approval, construction has stalled as the project has faced setbacks, including a lawsuit at the International Court of Arbitration located in Paris.
However, given the country's generation constraints in recent years, the government has sought to expand capacity by constructing new hydroelectric projects, including the 40MW Kashimbilla plant in Taraba and the 360MW Gurara II plant in Kaduna.
Nigeria's energy transition plan foresees that hydroelectric sources will contribute 11GW to the grid by 2050.
Follow us on twitter