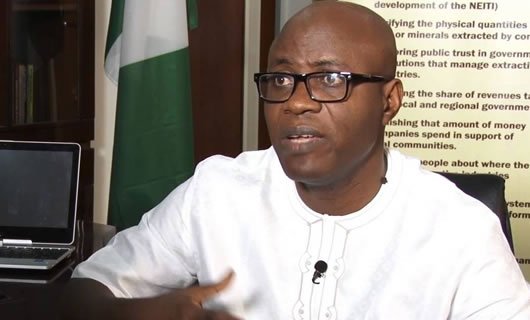 Ike Amos
Abuja — The Nigeria Extractive Industries Transparency Initiative, NEITI, Sunday, disclosed that Nigeria's Federation Account received N69.47 billion as revenue from the solid minerals sector in 2018.
NEITI, in a statement in Abuja, on the release of its 2018 Audit Report for the Solid Minerals Sector, stated that 2018 earnings from the solid minerals sector represented an appreciation of 31.67 per cent compared to N52.76 billion recorded in 2017.
Giving a breakdown of the receipts in the year under review, NEITI stated that taxes to the Federal Inland Revenue Service, FIRS, accounted for N65.69 billion, representing 94.56 per cent of the total, while fees and royalties paid to the Mines Inspectorate Department, MID, and Mining Cadastre Office, MCO, accounted for N2.21 billion and N1.57 billion, representing 3.18 per cent and 2.26 per cent respectively.
NEITI disclosed that the main sources of revenue flows from solid minerals remained various categories of taxes, royalty, permits, annual services and sub-national payments, adding that sub-national payments and other taxes accounted for N1.54 billion representing about 2.23 per cent of total government revenue from the sector."
One other feature of the solid minerals report for 2018, according to NEITI, was the focus on the performance of the strategic minerals identified by the Ministry of Mines and Steel Development, while it identified the minerals as coal, lead zinc, limestone, barites, bitumen, gold and iron ore. According to NEITI, the seven strategic minerals mined in 2018 contributed 49.7 per cent to royalty payments declared in the year.
NEITI declared that the contribution of the sector to the Federation Account in 2018 was the highest since it commenced reconciliation of payments in the sector, adding that 2018 earnings accounted for 16.69 per cent of total revenues of N416.3 billion that accrued to the sector from 2007 to 2018.
On production volumes, NEITI stated that 46.68 million metric tons of minerals valued at N47.87 billion were produced in Nigeria during the period under review, noting, however, that the production data was based on minerals either used or sold during the year".
According to NEITI, breakdown of the production volumes showed that limestone and granite accounted for about 80 per cent of the total minerals produced, adding that limestone alone contributed 54.85 per cent, while granite accounted for 23.88 per cent of minerals mined.
The NEITI report also revealed that Dangote Cement Plc and Lafarge Africa Plc dominated activities in minerals produced by companies, as the two companies contributed 57.22 per cent of the total minerals produced in 2018.
According to the report, while Dangote cement accounted for 46.38 per cent, Lafarge Africa was responsible for 10.84 per cent.
On state-by-state production, NEITI disclosed that in 2018, most of the mining activities in the country took place in Ogun State, as the state accounted for 12.66 million metric tons, representing 27.13 per cent of the total volume produced during the period under review.
It noted that Ogun State was followed by Kogi and Benue states, each accounting for 22.88 per cent and 10.10 per cent respectively, adding, however, that on the bottom of the table were states like Enugu and Borno states which contributed 0.02 per cent and 0.001 per cent respectively.