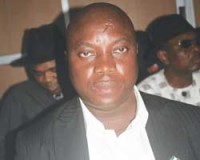 02 April 2012, Sweetcrude, LAGOS – The Nigerian government says it is disappointed with some multinational companies operating in the nation's oil and gas sector over their failure to redeem pledges to facilitate the training of 3,000 ex- militants in core areas of the industry.
Special Adviser to the president on Niger Delta Matters, Kingsley Kuku, alleged that the companies had given training to only 1,200 of the youths and that their areas of training were not relevant to the sector of the economy.
Kuku was honoured at the weekend with the award of "Maritime Man of the year 2011" for his contributions in "sending ex-militants for maritime-related courses to fill the gap of local content in the sector.
Speaking at the event, Kuku said he was disturbed by the indifference of the companies to the relevance of the training programmes for the youths, expressing his determination to withdraw the ex-militants from the centres where they are undergoing training, if it is discovered that their training at any centre was not relevant.
He said it was ridiculous that oil and gas companies could be training youths in the Niger Delta region as tailors, caterers and in other vocations that are of no relevance to the oil and gas sector.
The Special Adviser stated that the target of the amnesty office in 2012 was to train as many as over 8,400 ex-militants in various areas, such that the people of the region could get job placements in the oil and gas sector, where many expatriates were holding sway.
"Our target with the amnesty programme in 2012 is to train over 8,400 ex-militants, and as we are talking now, at the end of the first quarter of this year, we have put into placement over 1,000 ex- militants in different fields, we have done the classification, and between now and November 2012, we will hit the 8,400 mandate," he said.
He reiterated the commitment of the Federal Government to training the ex- militants in marine-related courses to ensure that in the next few years, youths from the region will have the skills and competence to take over the jobs, which were hitherto given to foreigners, who have not exhibited better competence in their vocations.