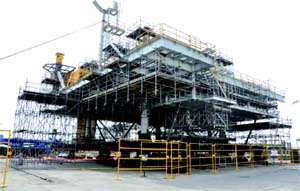 Kunle Kalejaye
27 March 2012, Sweetcrude, LAGOS – Nigeria's Federal Government has been urged to expand its frontiers in the Local Content policy to cover strategic sectors of the economy as over $20 billion worth of jobs is being lost by the country annually to capital flight especially in sectors like power and telecoms, amongst others.
Vice Chairman, Dorman Long Engineering Limited, Chukwuma Okolo, disclosed this at the launching of NNPC/MPN 'Oyot' Wellhead Platforms for MPN's satellite field development project recently in Lagos.
According to him, the capacity so far built on the oil and gas industry could easily be deployed in these strategic sectors of the national economy.
Okolo noted that Nigeria has the greatest opportunity to develop engineering fabrication capability with robust projects in the oil and gas, power and infrastructure sectors. "What is urgently needed is to fast-track critical drivers for Nigeria's industrial development," he said.
He stated that the Oyot platform would be located at the NNPC/MPN satellite Field, offshore Nigeria in OML 68&70.
"Oyot Well Head Platform is a world class product in which more than almost 2 million LTI free man hour was spent" he said, stressing the need for the Petroleum Industry Bill to be finalised and passed by the National Assembly as a matter of national development emergency.
"Mega size oil and gas projects like Egina, Brass LNG, NLNG Train 7, OK LNG, Bonga SW which are currently undergoing FEED and contracting processes should be accelerated and translated to reality. These will make the required contribution in employment creation and GDP growth for the country," he stated.
Okolo expressed his appreciation to the Nigerian Navy, NNPC/MPN and the Nigeria Content Development and Monitoring Board (NCDMB) for their tremendous contributions in ensuring a successful launching of Oyot Well Head Platform Project.
Speaking at the event, Chief of Naval Staff, Vice Admiral Ibrahim said the Oyot Wellhead Platform is a clear testimony of the joint capabilities of the Naval Dockyard's facilities and that of Dorman Long Engineering.
"This collaboration has turned out to be fruitful, instructive and a positive indicator of the viability of a civil-military partnership that is well designed to succeed," he said.