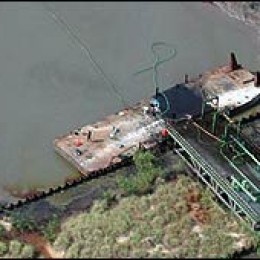 25 May 2012, Sweetcrude, Abuja – The Nigeria National Petroleum Corporation (NNPC) says the rate of crude oil theft in Nigeria has risen sharply in the last three months.
The corporation said Nigeria's current crude oil loss as a result of such illegal activities as bunkering and tapping on pipelines and major oil facilities in the Niger Delta has shot up to 180,000 barrels per day (bpd).
It represents a 30,000 barrels per day increase on the 150,000 barrels per day (bpd) widely reported earlier in February this year by Shell Petroleum Development Company (SPDC).
At the $91 per barrel current spot market price of Nigeria's sweet crude, the amount translates to N2.47 billion ($16.3 million).
Addressing members of the House of Representatives Committee on Petroleum (Upstream) who were led by their Chairman, Hon. Ajibola Muraina, on an oversight visit to the NNPC, Group Managing Director (GMD) of the corporation, Mr. Austen Oniwon, on Thursday in Abuja, Oniwon said the implication of such illegal activities in the creeks was much more than revenue loss but also included a huge environmental crisis.
Oniwon explained that the situation was becoming so hazardous that if left unchecked, it might create huge environmental degradation that could outweigh what obtains in the Ogoniland considering that over 75 per cent of stolen crude was often wasted on the environment while being refined unethically.
"We lose today almost 180,000 barrels of crude oil per day to criminals. If you reflect back, the total amount of crude oil produced per day in Ghana that sustains the whole country is about 120,000 barrels per day, yet as a nation we lose about 180,000 bpd to criminals.
"The implications of this are many folds; because these people carry out their activities in a most unprofessional manner, they cause huge environmental degradation. We had a major incident in Ogoniland which we are still coping with but what we are seeing today maybe more than double what exists in Ogoniland because they drill into the pipeline, take what they want, leaving the crude oil running out from the pipelines into the environment," Oniwon said.
He further stated: "This is causing huge environmental problems for us because hydrocarbon can stay in the ground for centuries; it means to recover that land will take generations before it can become productive again. United Nations study indicated that oil has penetrated 30 metres into the ground and so even if you want to remediate, we cannot scrape 30 metres of top soil and replace; we are looking near permanent damage to that environment."
The GMD called for support from the legislature in enacting far-reaching measures to curtail the incidence as well as in the passage of the Petroleum Industry Bill (PIB) when it eventually gets sent by President Goodluck Jonathan to the National Assembly.