Ike Amos
Dublin, Ireland — Chief Executive of the Nigerian Upstream Petroleum Regulatory Commission (NUPRC), Engineer Gbenga Komolafe, has called for the development of local financing vehicles and initiatives that would be able to mobilise the much-needed funds to develop the country's huge gas resources.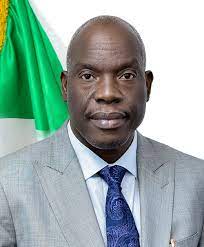 In a keynote address presented to oil workers in Abuja, Komolafe disclosed that this local financing initiative had become critical following the dearth of foreign funds, as traditional international investors continue to backtrack on funding fossil fuel projects.
However, to attract funding to the oil and gas sector at this critical period of energy transition to low carbon alternatives, he noted that operators need to develop innovation approaches to their operations.
He said: "What is paramount at this time is for the nation to weigh her options and strengthen the resilience and sustainability of our resource base in other to build robust positions in the new energy businesses of the future.
"Consequently, our position on the hydrocarbon cost curve is very important as this is a pointer to the competitiveness of our supply given the global nature of oil and gas demand and supply dynamics. Equally, our local content regulations must aim to strike an appropriate balance between building local-industry capacity and reducing costs."
The NUPRC chief executive argued that irrespective of the plausibility of the global energy market transition towards low carbon emission, developing countries should be allowed to continue to produce fossil fuels in a sustainable, due their negligible contribution to global carbon emission.
Allowing developing countries to continue to produce fossil fuels in a sustainable manner, according to him, would ensure that they utilise the proceeds to catalyse economic growth and shared prosperity, based on the principle of a just energy transition.
"The current energy transition which has been largely driven first by – policies – suffered various setbacks because of techno-economic flaws (such as storage concerns due to intermittency of solar and wind energy and price of energy from clean sources) which does not support a natural transition towards the new energy technology by the larger part of the world at this time.
"This concern coupled with other critical social externalities such as world geopolitics, energy security and energy access have the potential to stall the justification for 'fast energy transition' to cleaner energy sources due to the socio-economic imbalance that this may cause around the world," he noted.
However, according to Komolafe, Nigeria has the chance to leverage the energy transition to lead in the creation of renewable-energy businesses that would help to meet the growing energy demand on the continent and create new revenue streams and jobs.
"Fortunately, the Petroleum Industry Act (PIA) 2021 provided new fiscal terms that would act as a lever to strengthen and optimise cost competitiveness in Nigeria. Still, we need to address sources of cost premium (for example, insecurity), and improve the ease of doing business including streamlining the permitting processes and strengthening contract enforcement.
"Nigeria could further strengthen the resilience of our resources by considering initiatives to decarbonize existing oil and gas operations and continue to encourage investment in lower-carbon energy infrastructure such as gas pipelines as this could reduce the risk of stranded gas resources," the NUPRC chief executive stated.
Follow us on twitter