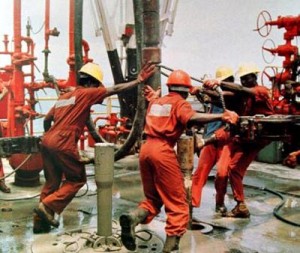 *Poised for strike over 'illegal deductions'
Victor Ahiuma-Young
8 December 2011, Sweetcrude, LAGOS – The National Union of Petroleum and Natural Gas Workers (NUPENG) has threatened to shut down the Nigerian oil industry in the next 72 hours if the management of Shell Petroleum Development Company (SPDC) fails to, among other things, refund alleged illegal deductions from members' salaries for over one year and halt perceived unfair labour practices.
The union which also threatened to report the management of SPDC to the Economic and Financial Crimes Commission (EFCC) named other grievances of the union to include alleged connivance with an expelled official of the union (name withheld) to, not only sell oil blocs without due process, but also to enslave Nigerians.
A statement by the General Secretary of the union, Comrade Elijah Okougbo said the illegal levy had been going on for over one year and not less than N3 million was being deducted from members monthly.
According to the union, " This levy is illegal as it was not approved by the National Executive Council (NEC) as required by Rule 18(a) of the union's constitution. This is fragrant violation of the letter and spirit of NUPENG constitution and therefore constitutes a criminal act.
"It lacks probity and accountability. We have it on record that the illegal deductions from the workers' salaries run into more than N3 million every month.
"The levy is not union dues and we do not know the project that it is earmarked for on monthly basis. We are directing that the levy deduction should be stopped henceforth and no further deduction of it should be made from the salaries of the members any longer.
"We call on SPDC management to immediately refund all deductions on the illegal levy to the workers or else, we will petition the Economic and Financial Crimes Commission (EFCC) to swing into action to ensure that the illegal deductions are paid back to the workers who are members of NUPENG.
"In SPDC, outsourcing and contract staffing has become the order of the day and these workers have no conditions of service or severance benefits. The contractors pay whatever they like and most times owed salaries for upward of six months in arrears. They make all manners of deductions from their salaries, which are not remitted to the appropriate government agencies and the union protests are ignored."
According to the union, all efforts to make service contractors and Shell Management see reason to negotiate terminal benefits for the workers whose appointments were terminated since 2008 failed to yield positive result.
It accused SPDC of engaging in "modern day slavery", saying NUPENG will continue to resist it.
The statement added that while the SPDC branch chairman of the union had been expelled from the union, the branch executive had equally been dissolved; stressing SPDC had been communicated accordingly.