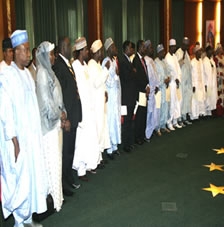 28 October 2011, Sweetcrude, Abuja – The Nigerian government says it plans to establish an inter-ministerial technical committee on mines infrastructure to ease the infrastructural challenges in the mining sector and create enabling environment to attract more players.
Minister of Mines and Steel Development, Musa Sada disclosed this Thursday at the 27th annual general meeting of the Nigerian Metallurgical Society (NMS) in Abuja.
According to him, the move had become necessary in view of "severe inadequate funding, policy inconsistency, lack of Regulatory Manual and Metallurgical Act to streamline the activities of the sector, which has constituted major challenges militating against sustainable development of the sector."
He did not give further details on the plan.
The minister stated that the government was aware of the numerous challenges confronting the sector and that efforts were on to address them through dialogue with relevant bodies.
He noted that there were infrastructural inadequacies in the sector, which necessitated a recent meeting between officials of his ministry and those of the Ministry of Transport for a synergy to address the inadequancies as it concerned the Transport Ministry.
The synergy, accordingto him, is ttargeted at synchronising his ministry's developmental programmes with transport infrastructure development in order to optimise the operational requirements of mining and metallurgical dealings.
He added that only efficient rail and waterways system would facilitate bulk movement of raw materials from the mines to the smelting and refining facilities, and products from the smelters to both local and export markets.