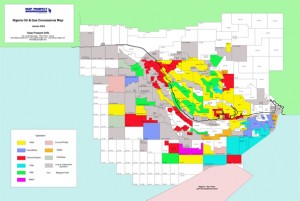 05 March 2012, Sweetcrude, LAGOS – Exploration companies itching to have a stake in Nigeria's oil sector and existing ones planning to expand their holdings will have the opportunity to do so before the end of the this year.
Director of Department of Petroleum Resources (DPR), Mr. Osten Olorunsola, told journalists at the weekend in Lagos that the government was finalising plans for a fresh licensing round later in the year, maintaining that the date and other details of the bid round would be announced soon.
Plans to hold licensing rounds in 2009 and 2010 were stalled, according to industry observers, by the delay in the passage of the Petroleum Industry Bill (PIB) and crisis resulting from the 2005, 2006 and 2007 rounds.
These were clouded by fraud claims, which led the government to cancel the award of some oil blocks.
The award of some of the blocks is still subject of litigation.
Olorunsola was of the hope that the new licensing round will help raise Nigeria's oil reserves.
On efforts to raise the country's oil reserves, he said DPR issued about 38 oil rig licences in 2011, resulting in the drilling of three exploration wells and 93 development wells.
He put Nigeria's reserves value for oil as at January 1, 2011 at 31.219 billion barrels for crude oil, 5.314 billion barrels for condensates, while total gas reserve was 182.3 trillion cubic feet (tcf).
In the downstream, he said one licence to operate a 1,000 barrels per day diesel extraction plant was granted to a private company, while six licences for various refinery projects had been issued, which are at various stages of development.