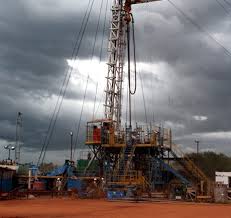 22 April 2014, Lagos – The diminishing foreign investment in Nigeria's oil production occasioned by the non-passage of the Petroleum Industry Bill, PIB, has taken its toll on the number of rigs operating in the country.
Rigs deployment indicates how active oil and gas processes are at a particular point in time.
Nigeria experienced a 27 percent drop in its rig count, as there were 31 rigs active on 32 locations in the Niger Delta basin in February 2014, as against 43 rigs active on many locations as at August 2013, six months earlier, according to Africa Oil and Gas magazine.
Anglo-Dutch Shell led the pack in this dwindling drilling activity. The company was on nine locations (eight onshore, one deepwater), in August 2013, whereas in February 2014, it was drilling only two wells; Gbaran 27 on land in the Eastern Niger Delta and Bonga 45 in deepwater.
13 land rigs were active on 13 locations in February 2014; there were also five swamp rigs, three jack ups (shallow water rigs), four semi submersibles and six drill ships.
The busiest companies were Agip (the Nigerian subsidiaries of ENI), active on four locations, including one land, two swamp and one deepwater wells and Seplat, which also had four rigs: three land and one swamp locations. Seplat's contractor for the three land rigs was Cardinal Drilling Services, which the company also partly owns.
Chinese owned Addax Petroleum was on three locations, utilizing Shelf Drilling's Jack Up Adriatic X on Adanga North Horst (ADNH)-19, and Saipem's semi sub Scrabeo 3 on Okwori- 32 and 33.
Nigerian independent Conoil, the Indian operator, Sterling, and Nigerian National Petroleum Corporation, NNPC subsidiary, Nigerian Petroleum Development Company, NPDC, were on two locations each with two rigs, in very different terrains.
Conoil was on swamp locations Ango-2 and Ekokor-2, with Depthwize rigs The Majestic and The Imperial respectively. Sterling was on land, at Okwuibome-25 and Anieze-10, with British Oil Gas Exploration (BOGEL) rigs Bogel Durga 1 and Bogel Durga 2. NPDC was drilling Abura SE-3 with Bogel Durga 3 and Okono-10 in shallow water with Transocean's Sedneth 701.
– Sebastine Obasi, Vanguard