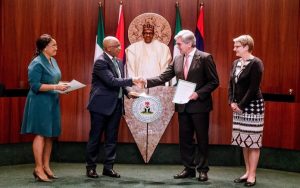 Sam Ikeotuonye
Abuja — The Nigerian government and Siemens have reached an agreement for the German company to more than double the country's power supply by 2023.
This is the outcome of a meeting in Abuja between President Muhammadu Buhari and Siemens Chief Executive Officer and president Joe Kaeser.
Both agreed a roadmap to nearly triple the country's power supply by 2023, President Muhammadu Buhari said on Monday.
The deal was signed under the 'Nigerian Electrification Roadmap' which was presented to Nigerian president by Siemens in November 2018. It was facilitated by the German Chancellor, Angela Merkel.
It was not clear how much the Nigerian government would be spending under the deal as there was no mention of that at the signing ceremony in Abuja.
However, Siemens is expected to achieve 7,000 megawatts of reliable power supply by 2021 and 11,000 megawatts by 2023.
"Today, in partnership with the German Government and Siemens AG, we are making an important move forward in addressing Nigeria's electricity challenge. Our goal is a simple one: to deliver more electricity to Nigerian businesses and homes," Buhari said at the signing ceremony.
He said that currently only an average of 4,000 megawatts reliably reaches consumers despite there being over 13,000 megawatts of power generation capacity.
"My challenge to Siemens, our partner investors in the Distribution Companies, the Transmission Company of Nigeria and the Electricity Regulator, is to work hard to achieve 7,000 megawatts of reliable power supply by 2021 and 11,000 megawatts by 2023," he further stated.
He added: "This project will not be the solution to all our problems in the power sector. However, I am confident that it has the potential to address a significant amount of the challenges we have faced for decades.
"It is our hope that as the power situation improves, we will improve investor confidence, create jobs, reduce the cost of doing business and encourage more economic growth in Nigeria."
Buhari also said the overall target was to grow generation capacity and grid capacity to 25,000 megawatts.
Kindly like us on facebook