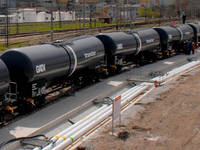 Godfrey Bivbere
09 February 2012, Sweetcrude, LAGOS — Minister of Transport, Senator Idris Umar, has charged operators in the petroleum industry to patronise the Nigerian Railways Corporation (NRC), which recently acquired 20 new pressurised petroleum products tank wagons worth N600 million for the movement of products across the country.
Umar also said nothing incriminating had been established against the ship, which brought the tank wagons into the country three weeks ago.
The Minister made the called at Apapa Port, Wednesday, while taking delivery of the imported 20 new pressurised petroleum products tank wagons imported by NRC.
He said: "The acquisition of these wagons is a further demonstration of the transformation agenda of President Goodluck Jonathan, to re-energise and redirect the transport sector of the economy."
"The order for these 20 wagons was placed in April, 2011 with Thorn Engineering/CRSBG in China for N600 million and it is heartwarming to see that the company has delivered on time."
The 20 wagons, he said, have the capacity to lift 900,000 litres of petroleum products, which is the equivalent of about 27 tankers by road.
"Imagine this heavy duty off our already stretched roads," he said.
He recalled Federal Government's efforts at ensuring inter modalism and exploring other modes of transportation, and the recent flag-off of a barge, laden with 420 metric tonnes of ceramic tiles through the dredged lower River Niger from Ajaokuta to Onitsha.
He said this single barge has transported what over 30 trailers would have done with the attendant wear and tear on our roads.
He told operators at the function that the tank wagons were fire resistant and made with heat absorbing materials, thus saving the nation the huge loss inherent in fire disasters and menace of environmental pollution and degradation against established standards of best practices.