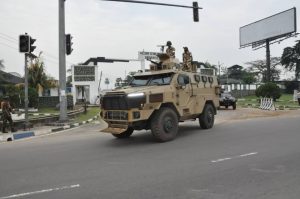 – Assures of security, law and order
Mkpoikana Udoma
Port Harcourt — The Nigerian Army has assured of security, peace, law and order in Rivers State ahead of the forthcoming governorship and State House of Assembly elections Saturday.
Brigadier General Suleiman Tilawan, Commander Six Division Garrison, gave the assurance on Thursday while leading other security agencies in a joint show of force for the elections.
Tilawan while addressing the combined troops, commended men of the Nigerian Army for their conducts in the last presidential election.
He also reaffirmed that Nigerian Army remains neutral and apolitical.
"Once more, we are all aware of the task before us that is coming up on Saturday and as usual, we are going to operate jointly.
"The show of force today is to show take charge of our environment for us to achieve maximum success on Saturday. I have always told you the essence of this show of force is to warn those that needs warning who think they can create problem that day, they should have a rethink and abandon whatsoever bad plans that they have.
"The show of force is to give comfort to the citizens that there will be adequate security for them to come out and exercise their rights in safety and peace, yes they have nothing to fear.
"We also need to reassure those that needs to be assured that all the security agencies in Rivers State are operating as one.
"Seeing you today I am more assured that on Saturday we are going to have a better outing, there will be a peaceful election in Rivers State, and we will operate according to the rule of engagement and our code of conduct in the 2023 election.
"Our duty is to remain neutrals and partisan and ensure law and order, peace in the conduct of the exercise and we are going to operate in line with our code of conduct."