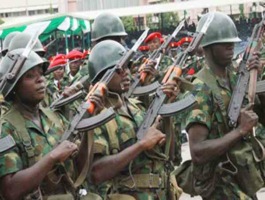 George Onah
4 October 2011, Sweetcrude, Port Harcourt- The Nigerian Army has warned officers and soldiers who are religious or ethnic bigots to quietly drop their uniforms and return to their communities because any soldier caught in such act would regret he ever joined the army.
General Officer Commanding 82 Division Maj. Gen. Sunday Idoko who was in 2 Amphibious Brigade Port Harcourt, yesterday, said the army was not for narrow minded people who would relegate the interest of the nation to the background.
Accordingly, Idoko urged the troops to put national interest above allegiance to their communities, ethnic groups and religions, because anything short of that will make them bad combatants that have no business in the army.
"We have discovered that some soldiers put the interest of their communities, region and religion above national interest. If you want to be good soldiers, Nigeria should come first and not any other entity or personal affiliations.
"Once you are a disciplined soldier you don't have any problem. When we talk of loyalty, anything short of 100 per cent loyalty renders you unfit to be a soldier", insisting that the troops must be disciplined and loyal to President Goodluck Jonathan, the Commander-in-Chief.
"For anyone to be a successful soldier, he must be loyal to the president, loyal to the Federal Republic of Nigeria and when we talk about loyalty, there is nothing like eighty or sixty percent, it must be hundred percent", he said
Idoko vowed that the would investigate the allegations that a major oil company uses military personnel to perpetrate human rights abuses in the Niger Delta region and that any officer found guilty of these allegations will not be spared.
"I have not heard of that allegation. If there is any such case is proved against any soldier, we will deal with him appropriately but certainly I have not heard of