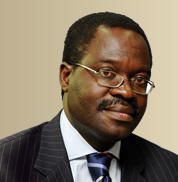 *Why banks are not investing in power sector
Yemie Adeoye
& Oscarline Onwuemenyi
04 May 2012, Sweetcrude, Houston, Texas – The Executive Director (Corporate Banking) of First Bank of Nigeria Plc, Kehinde Lawanson has stated that financial institutions in the country are more than ready to invest in the acquisition and development of offshore technology for exploitation of oil and gas resources in Nigeria.
Speaking to journalists at the on-going Offshore Technology Conference (OTC), in Houston, Texas, Lawanson stated that there was an economic nationalism taking place in the oil and gas industry in Nigeria, citing the recent acquisition by indigenous operators of oil and gas assets formerly held by multinational oil companies.
He pointed out that Nigerian companies are "looking for partners globally, so conferences like this helps indigenous companies to identify global partners that we can support. We are sponsoring this programme to be able to target a cluster of players in the oil and gas business in Nigeria."
He said the bank have given financing to over 25 per cent of the oil and gas business in the country. "In an industry that has over $50 billion, 25 per cent is essentially very significant to ignore. We do both upstream and downstream.
"Our total investment in the oil and gas sector in Nigeria remains the highest in the industry over the last year, totaling over N500 billion. We played very actively in the marginal field; we funded a number of marginal acquisitions – more than 25 per cent in that sector, including investments in other upstream and downstream sectors."
Mr. Lawanson pointed out that the high cost of funding for oil and gas projects in Nigeria is not peculiar to banks alone, adding that the high cost of infrastructure was mainly to blame for the high margin costs to borrowers.
"Because there is a huge gap in infrastructure, most Nigerian banks had to invest a huge chunk of their resources in providing their own infrastructure, including power, security, among others, which makes doing business very tough in the country," he explained.
He added that the risk profile or the absence of it among Nigerian companies has further compounded the ability of oil and gas companies to access financing from banks within the country, stressing that more efficient structures need to be put in place to make it easier for banks to support the companies.
He said activities of the downstream sector in-country has had no impact on the bank due to the sophistication of its risk management, adding that their customers are paying their loans in due time.
"First Bank has always been in the forefront of providing professional investment and risk advice to Nigerian companies, but the experience that we have with a lot of Nigerian entrepreneurs is that even when they are given financial advice, it is left to them to follow the advice.
He added, however, that "indigenous players have to find the right technological partners to exploit and increase production, which I believe is the essence of the OTC, and First Bank is here to not only foster such partnerships but to provide financial advice that would enhance the relationship for all partners."
Mr. Lawanson, meanwhile, explained that banks in the country are reluctant to invest in the power sector due to the dearth of skills and competence in financial management of the sector.
"We are fully involved in the power sector, but it is a sector that we have entered with a lot of caution. This is because there has been no fresh investment in the power sector over a period of 30 years, which resulted in a dearth of skills and competence and the banks have to be careful.
"The starting point should be to acquire the necessary skills and competences through training of staff before you get fully invested in the sector," he added.
He said that the reforms initiated by governments since the return to democratic rule has "opened up the sector to private involvement and, thus, private sector interest in the structures and governance of the vital but complicated sector."
He added that, "Previously, the governments did it themselve – they sought for financial advice and funding from outside of the country. But the privatization efforts as well as other fiscal reforms have thrown the sector open for Nigerian financial institutions to come in and play a major role, and that is what we are looking at for the nearest future.
"Also, it is very important that we get the laws right. For instance, government has postponed the bidding rights more than twice. We are waiting for the laws to kick in effectively and we are ready."