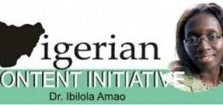 03 June 2012, Sweetcrude, Lagos – I travelled to SA and Kenya in May and was opportuned o view Nigeria from the point of view of two other African countries. To say that I was shocked and alarmed by what I experienced is a fact. To say that Nigeria has fallen well behind the standards that our patriarchs set for us, pre-independence, is an understatement.
The main problem that plagues Nigeria and Nigerian is our attitude and sheer arrogance. The perception that cash is king and expectation that every other person should fall at our feet or be at our beck and call came through in more than one instance. I experienced, saw and hoped that we can overcome this character flaws that is fast becoming our way of life. Surely, we must not pass these bad characteristics on to our children and the future generation of Nigerians. Communication on mobile phones for a start was not with decorum. The carriage, swagger and saunter that marks the trot of a Nigerian is another phenomenon to be viewed circumspectly or with disdain. " The saying that if you do not know, and know that you do not know, you are on the way to recovery whilst, if you do not know, and know not that you do not know you are a fool" became my constant thought and mind sweeper.
In SA, I realised that there is the attitude of a collective responsibility to make sure that South Africa becomes a leader in key sectors of the African economy whilst we Nigerians believe that we are leaders and can remain so without doing anything constructive or proactive to ensure that our belief becomes a reality.
A lot of multinationals and global chains are setting up African regional offices in SA because of the assurance of guaranteed power supply, good infrastructure and availability of relatively cheap skilled labour. Whilst we are very good at complaining about what government is not doing, I am not sure that we have individually or collectively come up with any counter plan to make Nigeria or Nigerian companies the first choice of the destination of any investor that is considering making a huge investment in Africa.
As we prepare for our Executive Management Development Programme (EMDP) in Manchester Business School (MBS) which is themed "Establishing Multinational and Transgenerational Businesses" and our Executive Leadership Programme in London in June, I am wondering about the Nigerian mindset, attitude and characteristics that must be overcome to enable us put the theory into practical use for the collective benefit of all.
Whilst, it is clear to me that African national brands like Shoprite and Nakummat would need to step up as they are under a fierce threat from international brands such as Walmart, I am more concerned about the local retailer that can be found in our local market or that has established as a roadside stockists. The concern I have for local and national brands is the need to step up through collaboration, coordination and cooperation. An interesting business model is that of the Pride of Africa, "Kenyan Airlines" that is in partnership and alliance with KLM , AirFrance, Korean Air, Air Mauritius, Air Mozambique, Air Nigeria, Air Botsawana, TAAG-Angola Airlines, Aeroflot, etc.
How does all this apply to the Nigerian Oil and Gas Industry Content Development (NOGICD) Act? My take is that the Nigerian Oil and Gas business or entrepreneur would need to decide on if it is wise to grow organically or through mergers and acquisitions. Taking a look at the Kenyan Airline and Walmart model one would have to grow a business to a point where its share value justifies involving angel or equity investors, have an excellent financial model in place to attract more investors through a public offer so that the capital base and cash liquidity of the company allows it grow and expand simultaneously through M&A's. It is clear to me that there is a need to for us as Nigerians and African to dream and think big in view of the fact that Walmart's spent $2.4-billion (R16.5-billion) for a 51% takeover of Massmart, with the intent to penetrate the Nigerian market through the game, makro, builders chains
Whilst I am of the opinion that the game is not for the swift I am quite certain that there is fire on the mountain and we need to run, run, run if we must reap the benefits of the NOGICD Act.
About the Author
Dr. Ibilola Amao is the Principal Consultant with Lonadek Oil and Gas Consultants, a firm of technical consultants with their core competence in the area of human capital and vendor development. For more information or to reach Dr. Amao you can email her at [email protected] or visit www.lonadek.com