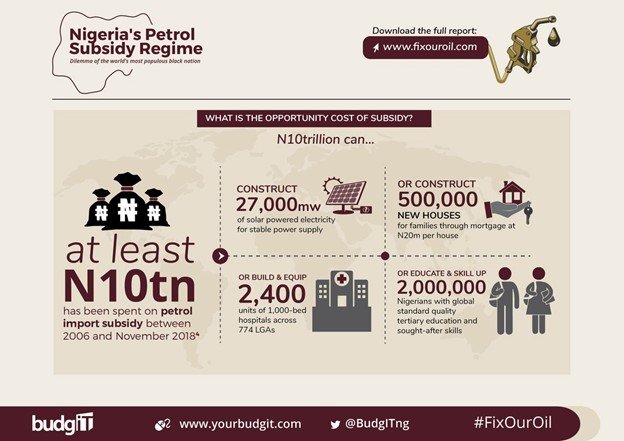 OpeOluwani Akintayo
Lagos — The federal government of Nigeria has expressed commitment to end both electricity and fuel subsidies by mid-2021.
This was revealed by the International Monetary Fund, IMF in a report after the conclusion of its Article IV consultation with Nigeria.
According to the Washington-based Fund, the federal government had promised to see to the end of tariff shortfalls that led to their re-emergence.
"They expressed strong commitment to prevent fuel subsidies from resurfacing and to fully eliminate electricity tariff shortfalls by mid-2021.
"They believe that lifeline tariffs and other relief measures are adequate to protect poorer households from increases in electricity prices and highlighted the benefits from higher and more predictable availability."
Although the Nigerian government had in March 2020 removed petrol subsidy, it however resurfaced following rise in price of crude oil at the international market.
The Nigerian Electricity Regulatory Commission, NERC had also severally attempted to increase electectricity tariffs to reduce nagging shortfalls challenges in the electectricity sector, however, its efforts had met with backlashes from labour unions.
On September 8, 2020, the Federal Government said its removal of petrol subsidy and the increase in electricity tariff were in agreement with reforms requested by the International Monetary Fund and the World Bank as it seeks financial assistance of $3.4bn from IMF.
The President, World Bank Group, Mr David Malpass, had met with the Minister of Finance, Budget and National Planning and the Governor of the Central Bank of Nigeria, Mr Godwin Emefiele, on April 8 where the need to eradicate energy subsidies among other issues were discussed.
"The recent introduction and implementation of an automatic fuel price formula will ensure fuel subsidies, which we have eliminated, do not re-emerge," the Federal Government told the IMF in the letter of intent dated April 21, 2020.
The World Bank in October also hinted that the Nigerian government had 'taken important steps to reform its subsidy regime'.
"The gasoline (petrol) price is set monthly by the Petroleum Products Pricing Regulatory Agency from market-based costs. When international petroleum product prices start to recover, the PPPRA will allow price increases accordingly," it said in its Africa's Pulse report, adding that the Nigerian government had established a market-based pricing mechanism with no price ceilings.
However, total end of the respective subsidies are currently stalling due ongoing discussion with labour unions across the country.
The federal government said it would announce way forward after concluding consultations.