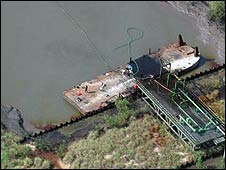 22 August, 2011 – Nigerian officials are most likely involved in an oil theft scam which has led to a spate of pirate activity off the coast of Benin this year, according to Upstreamonline report.
Gangs in the neighbouring West African countries are also colluding when it comes to the "dirty job of stealing oil" which is driven by the relatively low cost of fuel in Nigeria, the report from Norwegian security analyst firm, Bergen Risk Solutions, contends.
The number of tankers and other vessels being attacked just off Benin's coast has skyrocketed since April with the latest incident seeing a chemical tanker hijacked by 12 armed pirates off Cotonou on Saturday when it was conducting a ship-to-ship transfer of hydrocarbons.
Corruption in high levels of Nigeria's governmental, naval and port authorities could be feeding the piracy frenzy as the trade in illegal bunkering proves lucrative, the report contends.
"Corruption and organised crime seems to be at play…There is already not only a market for stolen oil but also an established network to service this market," the latest Benin Maritime Security report from the company seen by Upstream reads.
"Official collusion is not only probable, it has well established and 'proud' traditions. Given that corruption is rampant in Nigeria and elsewhere in the Gulf of Guinea, the claim that government officials are involved in the trade of stolen oil – also offshore Benin – might well be true."
Although Bergen Risk Solutions could not confirm the official collusion, it cited an unidentified well-placed source as saying there was collusion at high levels in Nigeria. The source could not divulge more information as he "claims he runs a risk of his life".
The Nigerian source claimed that some naval officers are involved in the scam as they have an ownership share in lightering vessels, the report contends.
"But are the Nigerians alone in this? They are not. As there are international networks for targeting, planning, ownership and markets – there are also cooperation across borders when the, literally, dirty job of stealing oil is carried out."
The report contends, however, that the issue with security of Benin in more related to the security situation and oil and gas industry in Nigeria.
"Even though the recent attacks in Benin's territorial waters are linked to Nigeria…the politically motivated militant campaign targeting the oil, gas and maritime industries that many associate with operations in that country has no bearing on operations offshore Benin."