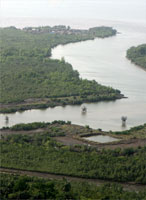 3 October 2011, Sweetcrude, Malabo – London-based venture company, White Rose Energy, has further increased its stake in Equatorial Guinea's Block H to 48.75%.
The company is farming in to the project via acquisition of 11.25% interest from Nigeria's Atlas Petroleum.
In August, Perth-based Roc Oil farmed down its stake in Block H from 37.5% to 20%, handing over the interest and technical operatorship to White Rose.
The Australian-listed company has been selling off its African assets this year as part of an effort to concentrate on opportunities in China, South East Asia and Oceania.
The first exploration well is due to be drilled at Block H's Aleta prospect next year.
The players involved say there are several prospects and leads within the block, where the production sharing contract has been extended to February 2013.
Atlas will retain 25% interest in the project to Roc Oil's 20% and Swedish independent PA Resources' 6.25%.
GEPetrol retains a right to assume a 5% interest.
White Rose Energy Ventures was set up by former BP executives with backing from US investment outfit First Reserve Corporation.
The startup aims to build a portfolio of upstream oil and gas assets in west Africa.