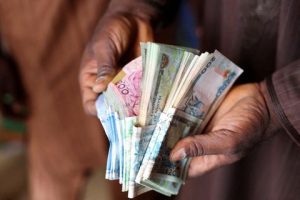 Abuja — The Nigerian naira should be stronger than the official rate, the likely next finance minister, Olawale Edun, said on Tuesday, adding that a weaker currency was not supported by fundamentals.
President Bola Tinubu last week nominated Edun, who is advising him on monetary policy, to become a minister, along with 27 others. He has long been tipped to become finance minister.
Portfolios will be assigned after a Senate confirmation of nominees.
Edun said at a Senate screening to confirm his nomination that a weaker exchange rate of around 860 naira, a level where the currency is quoted on the parallel market, is not backed by economic fundamentals.
"The 860 or so that we are seeing is not backed up by the fundamentals of the Nigerian economy," Edun said, suggesting a more suitable rate of about 700 to the dollar.
Last week, the naira fell to new record lows on the futures market, which sets expectations for where the currency will trade on the spot market and is used by the central bank to allow foreign investors to hedge against losses.
On Tuesday, the naira closed at 789 per dollar. It has swung widely due to dollar shortages since the central bank in June lifted trading restrictions and allowed the naira to fall by more than a third on the official market.
Dollar shortages on the official market have seen demand funnelled to the parallel market where the currency is weaker.
Tinubu has embarked on Nigeria's boldest reforms in decades, including scrapping a popular but cost subsidy on petrol, a gamble he hopes will kick-start the economy out of slow growth.
*Camillus Eboh & Chijioke Ohuocha; editing: Nick Macfie – Reuters