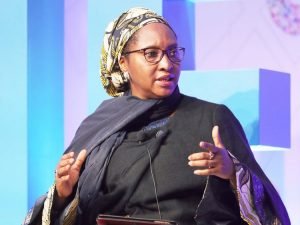 Sam Ikeotuonye
Lagos — The Nigerian government expects the country's crude oil production to reach 1.6 million barrels per day, mb/d, by the first quarter of the New Year, according to Minister of Finance, Budget, and National Planning, Zainab Ahmed.
Revealing this at the World bank's Nigeria Development Update and Country Economic Memorandum in Abuja, Ahmed also stated that the level of importation of petroleum products into the country would significantly drop within the New Year when rehabilitation work on the Port Harcourt Refinery is completed added to the much-expected commencement of operations of the Dangote Refinery in Lagos.
The minister, who was represented at the event by the Director-General, the Budget Office of the Federation, Ben Akabueze, said oil production is "expected to increase to 1.6 million barrels per day by first quarter of 2023, as efforts intensify to improve oil production infrastructure and reduce oil theft."
"We currently project an average crude oil production of 1.9 million barrels by 2024. We expect to complete the rehabilitation of Port Harcourt refinery before the end of 2023, we have also signed an MoU with Daewoo for a $1.5 billion rehabilitation of the Kaduna and Warri refineries.
"The importation of production products will significantly decline in 2023, as the Dangote refinery is expected to begin operations in the first quarter of 2023. The expected improvement in oil production is also attributable to the increased collaboration between government security agencies, private security outfits, host communities and deployment of technology to curb menace of crude oil theft," the minister added.
Nigeria's oil output saw some improvement last month, with observers expressing hope that the improved production would be sustained.
Oil production hit 1.185mb/d in November, figures from the country's petroleum regulator showed, after output fell to less than 1 million in August, the lowest in years due to increased crude oil theft and vandalism of pipelines, forcing some companies to curtail or stop production.
Oil production was 1.014 million barrels in October.
Ahmed stated that Nigeria's economic growth improved in the third quarter of 2022, attributing the improved growth to "a robust recovery in the non-oil economy and other sectors, including telecoms, agriculture and services".
She said the Federal Government was expecting more investors in the oil sector, stressing that the government was striving to achieve greater clarity in the sector in line with the provisions of the Petroleum Industry Act, PIA.
The minister, who spoke of the need for the nation to depart from "business as usual" policies, said fiscal pressures have mounted on the economy due to lower than expected revenue and rising cost of subsidy on the Premium Motor Spirit, PMS, also known as petrol.
Follow us on twitter