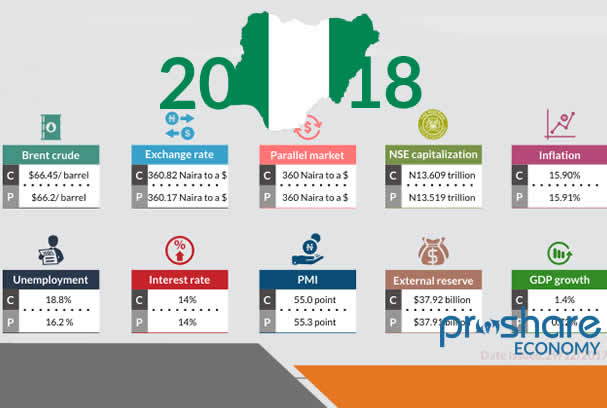 *GDP drops by 1% Q1
OpeOluwani Akintayo
26 June 2018, Sweetcrude, Lagos — Growth in Nigeria's oil sector has exceeded earlier projections by PricewaterhouseCoopers, PwC's, surging by 14 percent in the first quarter of the year as against just 2 percent growth predicted by the auditing firm.
Statistics sourced from the Organisation of the Petroleum Exporting Countries, OPEC's Monthly Oil Market Report, MOMR for June, said the oil sector advanced by 14.7% year-on-year (y-o-y) in 1Q18, up from 11.2% in 4Q17.
GDP grew by 1.9% y-o-y in 4Q17, signalling the highest rate of growth since 4Q15.
This brings the full 2017 growth rate to 0.8% y-o-y.
In one of its economic reports, PwC had predicted that Nigeria's GDP will grow at 2.0 percent year-on-year in 2018, propelled by oil production increase and government spending, with significantly higher oil sector growth in the first quarter of 2018 due to base effects.
However, statistics from OPEC showed that Nigeria's GDP posted the second consecutive quarter of no less than 2.0% growth in 1Q18.
GDP increased by 2.0% y-o-y in 1Q18 alone, down from 2.1% in 4Q17.
With 14.7 percent growth in the oil sector in Q1 alone, analysts say that, given all other factors, the country's economy has better chances of further growth as the year progresses.
Oil prices pegged at $74.80 earlier on Monday, down from $75.53 per barrel.
OPEC last Friday had increased output by 1 million barrels per day.
Although Nigeria's oil minister, Ibe Kachikwu before the OPEC meeting, had said the country did not support an increase in production, however, the country stands a chance of benefitting from the increase, which will, in turn, spell more growth for its economy.
"However, we note that growth may be offset by a slowdown in investments due to the uncertainty usually associated with elections in Nigeria"
"Despite our expectation of stronger growth in 2018, we believe the prolonged delay in implementing overdue reforms in the economy will continue to drag growth. These include slow progress with the power sector reforms, the absence of full deregulation of the downstream petroleum sector and the multiplicity of exchange rates which constrains investments and makes the economy vulnerable to shocks in the oil sector", extract from PwC's economic report had said.
Hence, growth will remain considerably below the long-term economic and population growth rates of 6.7 percent and 2.7 percent respectively."
Nigeria is the largest economy in Africa.
However, growth has fallen sharply since 2010, with the economy falling into recession in 2016 due to an oil-induced crisis.
Despite the setback, the oil sector remains the main source of export earnings and government revenues.
However, the low oil price experienced between 2015 and early this year had placed significant pressure on the currency and government earnings
Oil prices are not the only concern – production failures, spillages, increased illegal bunkering and outright theft has affected volumes.
However, volumes have increased recently due to lower incidence of attacks on facilities.
Even with better prospects to the country's earnings due to OPEC's production increase and higher oil price, the country's oil production again dropped from 1,516 barrels per day in May, from 1,630 recorded in April due to shut-in as a result of the declaration of force majeure on Bonny Light by Shell.
Shell said it is working on restoring the export line to normal, hedging hope of higher earnings for the country.
Nigeria's overall economic growth for 2017 came in at 0.83 percent, helped by an 8.68 percent growth in the oil sector.
Even though the oil sector accounts for less than 10 percent of the country's economic output, the non-oil sector remains highly dependent on the earnings from the sector which accounts for more than 90 percent of export earnings.
Troubles in the oil sector plunged the country into its first recession in 2016 when economic output declined by -1.58 percent.
Even though the country is out of recession, many analysts say the growth is still very fragile because it is mainly supported by higher oil prices and production.
Before the recent plunge in oil prices, Nigeria was used to earning over $100 from each barrel of crude oil exported, coupled with a record of over 2 million barrels per day of production.
However, analysts have argued that increase in production barrels and higher oil prices are not enough to propel growth in the country's economy.
"The growth rate still lags far behind where Nigeria should be," said Razia Khan, chief economist for Africa at Standard Chartered, although she noted that the full-year growth was higher than the 0.7 percent forecast by her bank.
"… higher oil prices alone are not going to be sufficient to provide a really strong lift to the GDP numbers," she was quoted by Reuters as saying.
But analysts at Standard Chartered Bank Research noted that Nigeria's growth rate of 0.83 percent was slightly above their expectation of 0.7 percent.
"The economy continued on its steady pace of recovery, driven mainly by the rebound in the oil sector. However, in Q4 the non-oil sector showed some signs of recovery after being depressed for most of the year. We maintain that risks to our 2.5 percent growth forecast for 2018 are probably skewed to the upside, should oil production remain above our assumption of 1.75m bpd and should access to credit for the non-oil sector be easier to obtain compared to last year"
But despite the growth in GDP, analysts at Standard Chartered Research say private sector consumption expenditure will recover only slowly through the course of the next 12 months and will probably not recover to the pre-2014 levels any time soon.
"In fact, we believe that real wages have actually been declining for much of the last either years, making it difficult for a massive improvement in consumer sentiment based on our expectation of a 2.5 percent real GDP growth rate in 2018. Having said that, government expenditure will continue to be highly correlated with oil price and production levels."