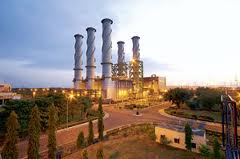 *Minister blames blackout on explosion

26 March 2012, Sweetcrude, LAGOS – Power generation in Nigeria has dropped below 3,000 megawatts (mw) as a major explosion that rocked the Benin transmission station of the Power Holding Company of Nigeria (PHCN) at the weekend plunged parts of the country into major blackout.
Minister of Power, Prof.Barth Nnaji, who confirmed the shortfall in power generation, said, through his Special Media Assistant, Mr. Don Adinuba, that the level of power generation has currently dropped to less than 3,000mw.
He attributed the development, among other factors, to inadequate water level at the nation's dams, including Kainji and Shiroro.
"The low water level at the dams has affected the generation of commercial power mainly because of lack of rainfall in different parts of the country, especially the North. This was worsened by low gas supply," he said.
The Nigerian Gas Company (NGC), according to him, has not been able to supply sufficient gas to PHCN as a result of reduced supplies from oil companies.
"This has constrained the ability of the PHCN to generate, transmit and distribute commercial electricity for consumption".
Prof. Nnaji also confirmed that "there was an explosion at the Benin transmission system which resulted in a fire outbreak."
The explosion, which occurred on Friday, resulted in a fire outbreak that led to a shutdown of the national power grid, cutting off supply to customers nationwide.
Meanwhile, a source at the Egbin Power Station at Ikorodu, Lagos, who did not want to be quoted, told News Agency of Nigeria (NAN) that generation at the thermal plant had dropped drastically from 900 megawatts to less than 500 megawatts, as at Friday.
The source said that none of the six units at the plant was producing at its installed capacity of 220 megawatts, adding that only four of them were now working.
"We are not generating at our full capacity of 1,320 megawatts due to some local problems.
"The little we are generating and sending to transmission is being complemented by that from the AES Independent Station", he said.
However, the Chief Executive Officer, Egbin Power Station, Mr. Mike Uzoigwe, told NAN that generation at the plant stood at 1,080 megawatts, adding that five of the six units were working at full capacity.
He said the sixth unit would soon be restored. Egbin plant is PHCN's biggest thermal power station, with an installed capacity of 1,320 megawatts.