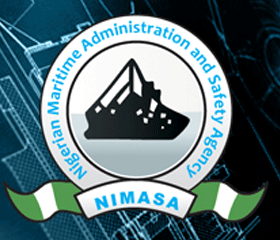 Toju Vincent 26 August 2013, Lagos – As part of efforts to ensure improved security in the Nigerian maritime sector, the Nigerian Maritime Administration and Safety Agency, NIMASA, has signed an agreement with the Nigerian Air Force with a view to providing effective air surveillance and monitoring of the nation's coastal waters.
Speaking at the signing ceremony, NIMASA's director general, Mr. Patrick Akpobolokemi said the partnership will not only promote maritime security and safety, but enhance revenue generation for economic development.
He appealed the management of the Nigerian Air Force to not allow any form bureaucracy to hamper the Memorandum of Understanding so that the purpose or objective of the partnership is not defeated.
He opined that the partnership will when fully operational, will either reduce the issue of piracy and robbery at or totally eliminate the menace from the nation's waters.
The NIMASA boss particularly commended the role the NAF played recently in the rescue of a distressed vessel which led to the criminals being apprehended.
"When there are dangers in the waters we need the search and rescue support of the Nigerian Air Force because they have what it takes to do job, so it is necessary we partner with them.
"The recent rescue operation that was made possible by offcers of the Nigerian Air Force will send a clear signal to people who have been terrorising our waters" Akpobolokemi  added.
Speaking in similar vein, the Chief of Staff, Air Marshall Alex Badeh said that the NAF has capacity to go deep into the sea, noting there are agencies and institutions that are legally empowered  for such responsible.
He however  assured that the NAF will support NIMASA in ensuring that the waters are raided of criminals.
He noted that all kinds of vessels come into the country without restriction and cart away resources from the waters adding this sabotage by foreigners must stop.
His words "What we should do is to ensure that Nigeria benefit maximally from every action we take regarding this MOU.
"Our planes and surveillance equipment are packed with intelligence, we join you in this war against piracy in our waters"
In the Memorandum of Understanding, both parties recognised the need to ulitized selected NAF airborne assets to complement the on going efforts.
Some of the terms of reference of the MOU  will cover areas of intelligence surveillance and reconnaissance, search and rescue tactical airlift and enforcement .
Other equipment to be deployed to support NIMASA are NAF's APR, LU8 and MAL.