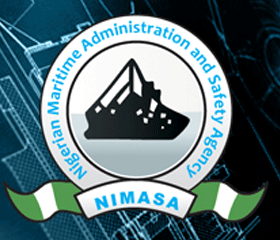 14 June 2013, Lagos – Nigeria's apex maritime regulatory authority, the Nigerian Maritime Administration and Safety Agency, NIMASA, has generated $196 million (N31.36 billion) from the 2 per cent surcharge on all contracts performed by vessels operating in Nigeria's territorial waters.
The agency, which came into being via the enacted NIMASA Act 2007, is the eye of the global maritime watchdog, International Maritime Organisation, IMO, in Nigeria. The United Nations, UN, specialised agency, with headquarters in London, United Kingdom, is responsible for maritime safety worldwide.
The disclosure is coming on the heels of the imminent disbursement of the much awaited Cabotage Vessel Financing Fund, CVFF, to qualified Nigerian ship owners by the Federal Government.
The Minister of Transport, Senator Idris Umar, who disclosed this in Abuja at the 2013 midterm achievements of the administration of President Goodluck Jonathan in the transport sector, said the money was generated from the tariffs, fines, fees from licences and waivers.
Within the period under review, Umar said the agency carried out Port State Inspection, PSI, on 595 vessels, while Flag state Inspection, FSI, was executed on 5,274 vessels. He revealed that 53 vessels were arrested for oil theft and sea robbery, just as it carried out 169 search and rescue operations.
Umar explained the money was meant for CVFF created by the provisions of the Cabotage Act of 2003 to assist Nigerian ship owners to acquire modern vessels. He revealed that the process of the disbursement of the fund had commenced with the appointment of the four commercial banks as primary lending institutions (PLIs).
The PLIs are Diamond Bank Plc, Fidelity Bank Plc, Skye Bank Plc and Sterling Bank Plc.
His words: "Out of the several applications received for the fund's disbursement, six applications have been processed and endorsed by the PLIs and recommended by the management of NIMASA to the Federal Ministry of Transport as eligible to benefit from the facility in the total sum of $55,406,273 and euros 8,450,000."
He said the ministry had concluded its evaluation, adding that the request was being forwarded to President Goodluck Jonathan for approval. He explained that the guideline for the administration of the CVFF provided the following funding ratio: NIMASA 50 per cent, PLI 35 per cent and applicant, 15 per cent.
Apparently trying to avoid the pitfalls associated with the disbursement of the fund in the past, Umar noted that the PLIs would provide NIMASA with unconditional guarantee for its 50 per cent until full payment.
– This Day Newspaper