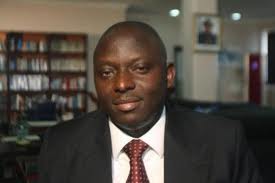 25 August 2013, Lagos – The Nigeria Maritime Administration and Safety Agency, NIMASA, has said talks have reached an advanced stage with the Nigeria Ports Authority, NPA, for the strict monitoring of entry and exit into the nation's ports with the aid of Electronic Access Systems.
The Director-General of NIMASA, Mr. Ziakede Akpobolokemi, in a statement on Friday, said this was part of the Federal Government's efforts geared towards effective implementation of the International Ship and Port Facility Security Code.
The NIMASA boss said the agency had recently been appointed as the designated authority, DA, for ISPS Code implementation by the Ministry of Transport.
"Since receiving the DA mandate formally with an official letter issued by the Ministry of Transport on May 21, 2013, NIMASA immediately set out to institute a fresh implementation programme as needed. The supposed 90-day ultimatum issued by the United States government to Nigeria requiring compliance with the ISPS Code was in April and was prior to NIMASA being appointed the DA.
"Therefore, it is important to note that the implementation is not being fast tracked for the deadline but has always been an International Maritime Organisation's requirement, which NIMASA has been working towards attaining but coincidentally falls within the window period issued by the United States Coast Guard."
Since assumption as the DA for the code implementation, Akpobolokemi said NIMASA had organised a stakeholders' conference, convened to announce the new arrangement and intimate the public about the imminent activities and programme to accompany the new ISPS implementation.
He said an action plan was developed and activated to close the reported gaps and this included dispatching competent recognised security organisations to conduct security surveys and assessments aimed at identifying and correcting these deficiencies and other observed vulnerabilities.
He also noted that NIMASA had focused not only on port facilities listed in the United States Coast Guard report but on the generality of port facilities in the nation's maritime domain.
This action plan, according to him, has been given a nod by the USCG and has pledged to support NIMASA' efforts in ensuring the issues raised are remedied.
"The DA has outlined its implementation framework in the form of a handbook to enable the public understand its agenda with respect to this new implementation regime," he said.
Akpolobokemi said the agency had also inaugurated a committee to help oversee the mandate.
The committee members, he said, comprised NIMASA, the Nigerian Navy, NPA, Nigerian National Petroleum Corporation, Nigeria Police, State Security Service, Nigeria Customs and Immigrations, among others.
He said the committee was also taking a stock of the nation's coastal maritime assets in order to establish the number, location and nature of operations of all port facilities and jetties in the country.
This audit, he said, would help the DA to capture all port/berth facilities as well as verify their ISPS Code compliance status.
He said, "NIMASA also recently concluded verification inspection exercises on all shore-based PFs in the country. The report of these exercises will form the basis for re-certification of these PFs in line with ISPS code requirements. PFs deemed non-compliant will not be recertified and in extreme cases, attract added punitive action."
– The Punch